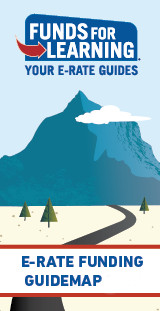 E-rate Funding GuideMap: Applicant Survival Kits
The E-rate funding process is a journey. Let us Guide you through the E-rate maze! With destinations, goals, and timelines, we give you a simplified view of the E-rate process.
For the seventh year in a row, Funds For Learning® is offering E-rate Coordinators from across the country a free E-rate Survival Kit. It's packed full of goodies to help you on your trek into FY2018, plus it is gift-rule friendly, valued under $20.
Wishing you safe passage,
Funds For Learning®
Your E-rate GuidesSM
Request Your Applicant E-rate Survival Kit
All fields are required.
Free survival kits limited to E-rate applicants only. One kit per school or library. Supplies are limited.