Happy Anniversary, Shalonna Grissom!
Funds For Learning is recognizing our E-rate Guides on their anniversary, giving them the opportunity to reflect on the past year and knowledge of the industry.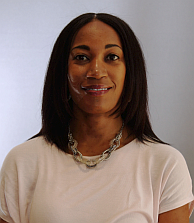 Shalonna Grissom's anniversary with Funds For Learning is June 1.
Congratulations on reaching your 3rd anniversary with Funds For Learning. It's hard to believe it has already been 3 years. What are some of the memories that stick out from your time here?
I have memories of my first filing window and how I would get excited once John or Cathy approved an application I'd completed. I remember asking Eric questions all day long and how patient he was with me. I also have memories of the Form 472's being mailed, and I am glad the process is now electronic. There are also crazy and weird office things that go on around here that I won't forget, nor will I go into detail about.

You started at FFL right after the filing window, so you had almost a year of hearing about it from the other staff members. How well were you prepared for the craziness of the filing window?
It's hard to prepare for something like the filing window when you are new. Even after hearing the stories I was still unsure on what to expect. I was just ready to enter the filing window head on and to learn more about the process. I believe my first filing window was the best one and I enjoyed it. Every year it has been different, and I don't expect the following years to be the same.

You have been a part of the new staff development and training the last few years. What do you like best about training the new staff members?
I thought the staff training that I went through was unique because I had never gone through a training like it. Everyone does training different so it's nice to learn from your different colleagues. It's also a chance to get to learn more about them, their background and share the knowledge on what it is they will be doing.

What advice would you give to someone that is reading this and just starting in their role in E-rate?
My advice is to never be afraid of asking questions and understand that it will take some time to learn E-Rate.
As part of your one-year anniversary blog we asked about the FFL Guidemarks, specifically, which Guidemarks were most evident amongst the staff. What would your answer be now?
My answer would remain the same "Teamwork". We work in teams and depend on each other to do their part. Even though we are on teams, each team is still willing to help when needed. Teamwork was evident this year during the filing window when our team needed help finishing up applications.

Sticking with the flashback to your previous anniversary blog, you seemed to really enjoy HGTV. What are you watching now?
I don't watch a lot of TV however I still watch HGTV and AWE. I also like to watch, game shows such as Family Feud and Wheel of Fortune.