Getting to Know A Little Bit More About Alfred
Over the past several weeks, Funds For Learning has highlighted an employee every week in our "Getting to Know" blog posts. This allows our staff to share some interesting facts about themselves and allows our readers a little insight into the world of FFL.
As luck would have it, Alfred Njuguna was the randomly selected employee highlighted for the "Getting to Know" segment the week of May 21, but we would be remiss not to mention a highlight that certainly would have made his post had he been selected only one week later.
On May 25, 2012, Alfred took the oath of citizenship, officially becoming a citizen of the United States.
This wasn't something we could let slip by without a little FFL fanfare, and as such, welcome to FFL's first-ever "Getting to Know a Little Bit More" blog post.
Getting to Know A Little Bit More About Alfred Njuguna
Alfred was born and raised in Kenya and came to the U.S. in 2000 in order to further his studies at the University of Central Oklahoma. He graduated in 2007, and again in 2009, with degrees in computer science and economics, respectively.
Alfred began the path and process of citizenship earlier this year after Kenya changed their constitution to recognize dual citizenship. After studying from a pool of 100 questions covering American history, civics and geography, Alfred passed the citizenship test, and on May 25, along side 97 other individuals from 35 countries, Alfred became a U.S. citizen.
"It is an honor to be a U.S. citizen and be part of this diverse nation," said Alfred when asked what it meant to him to become a U.S. citizen. "(Not having U.S. citizenship) caused a gap between my current and future goals. But everyday is a learning experience and becoming a U.S. citizen is definitely another part of the bridge that inches closer to closing this gap."
Alfred encourages others to embrace learning experiences and be a difference maker, adding that learning experiences should "propel you forward, not backwards".
"I am glad to be part of a difference maker," said Alfred. "not just in the work place, community, or nation, but in the world."
Alfred has definitely made a difference at Funds For Learning and so, as is tradition, some FFL staff took the liberty of a "congratulatory redecorating" of his office space...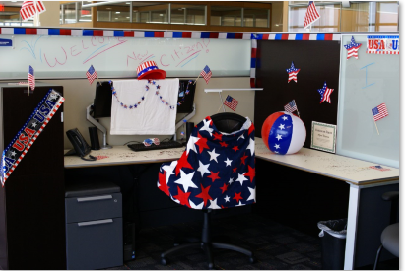 ...and had some fun with Photoshop.
Alfred was thankful for the show of support.
"The FFL family teamed up to make a memorable day and it meant a lot to have the support and congratulations of FFL," said Alfred upon his return the following week. "This is a one of the times in life you cherish forever."