Meet the Guides: Shay Gillmore
At Funds for Learning, we highly value our team members, your guides! This week, let us introduce you to Shay Gillmore, Compliance Processing Associate. Shay has been a part of the FFL team for four months.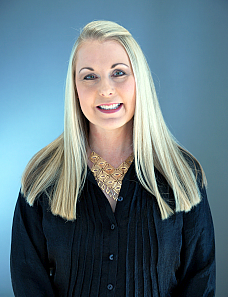 What are four words to describe you?
Truthfulness, Funny, Imaginative, Frank
What are your favorite things to do outside work?
I love art, history, deep thinking and internal exploration. I am an avid bird watcher and love to make up stories about what is really going in their world.
What is your current favorite TV show and why?
The American West is a historical documentary that helps connect the dots between several post-civil war scenarios including the politics and pressures of southern resistance, Indian relations, finance, the railroads, and America's push west. I am a history buff; I found the Reconstruction Era shocking and fascinating. I can't get enough.
If you could only eat one thing for the rest of your life what would it be and why (calories don't count in this scenario)?
Hummus and pecans – I know that is 2 choices. I love nuts, maybe secretly I am a squirrel. Humus is just divine and very versatile. Have you ever had a hummus sandwich? Yummy!

How long have you worked here at FFL?
4 months
What is your favorite E-rate filing window memory?
My employment began during the last month of 2016 filing window. The environment was intense with staff dedicated to their tasks; but everyone was very helpful and kind. Our leaders made sure we were fed every few hours, which I thought was very sweet.
What aspect of your role do you enjoy the most?
I enjoy scrubbing the invoices for accuracy. I like being a detective regarding my work, digging down to understand the why of a task or protocol. At the end of the day this benefits the school and the children. I find a lot of contentment in that.
How have you seen one or more of the Funds For Learning Guide Marks displayed during your time at FFL?
I have seen "Reinforce the Good" at FFL often – Acknowledging, with specificity, the good work of others. This company and its leaders do this daily. The culture here is precious, one of a kind, very supportive and a blast every single day!!
If you could pick one theme for Funds For Learning to turn into a book about the company, what would it be?
Employee Focus and Fun at FFL
Table of Contents:
1. Funds for Learning: What Is It?
2. Employee Environments: Keep It Flexible
3. Training and Development: Deliberately Focused
4. Cross Training: Rearranging the Seats
5. Attention From the Top: Participation and Perception
6. Employee Events: Social Mixers Produce Collaboration
7. Authentic Employee Focus: You Can Tell It's True
8. Tales from the Closing Window: True Stories!
Funds for Learning has a unique and targeted approach to the care and feeding of its employees. From the top down, FFL management creates a friendly, functional, and fun environment for workers to thrive and produce. Because FFL makes these investments, employees have increased collaboration, understanding, and effectiveness in producing an excellent product.