The Big Picture
Neatness Counts
Arranging documents and other communications in an easy-to-follow, useful manner
Identifying and properly labeling data, information sources and assumptions
Organizing work in a methodical and tidy fashion, free from irregularity
HARRINGTON COMMENTARY
Neatness Counts is the Funds For Learning GuideMark related to… you guessed it, neatness.
Neatness is an important element in our lives – and, in most of our work, neatness is essential. It is essential for a variety of reasons, including effective communication, quality of work, reproducibility of our efforts, and so on.
But Neatness Counts, isn't just about being neat. It is about sharing our thoughts in an easy-to-follow manner that is useful for others. It's about understanding the context of the information that needs to be communicated, and organizing it accordingly. Let me demonstrate.
When I started working at Funds For Learning® in July of 1997, I made the following diagram. It illustrates the E-rate funding process in which we specialize.
John's E-rate Funding Process Diagram (1997, revised 2000)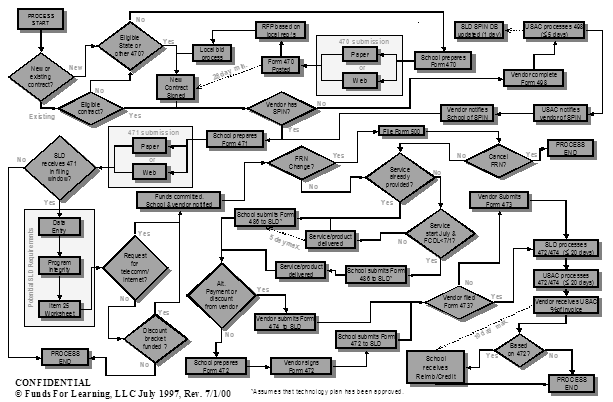 This diagram helped me understand how the E-rate process works and it became the basis for many of our procedures and systems, such as E-rate Manager®.
However, whenever I shared this diagram with people outside of our organization, it was usually met with glazed stares and strange looks. The diagram was overwhelming to many people. Looking back, I can see that the diagram was overkill. The training and support that Funds For Learning® provides is designed to help simplify the E-rate funding process, not make it feel more confusing.
Rather than use my complicated diagram, I now explain the E-rate process with the following six bullet points:
John's E-rate Funding Process Outline (2012)
Receive bids, quotes, proposals
Sign contract(s) for goods and services
Submit funding application for review
Receive service during allowable dates
Prepare payment paperwork
#####
Do you see the difference between the chart and the list? They are both accurate, and they are both neat; however, the list is more appropriate for most audiences. It gets the basic information across in a clear and concise format that is not so overpowering to its recipient. As much as I love my 1997 chart showing the E-rate funding process, I now understand that in most cases, it is better to share the simple 6-bullet list than the complex E-rate process diagram that I created.
This illustrates the essence of the GuideMark called Neatness Counts. It is not just about being neat. (Afterall, the chart is neat. It isn't sloppy or handwritten.) Neatness Counts requires knowing the information that should be communicated, as well as understanding the needs and knowledge level of the recipient.
It takes more work to do things neatly and to consider the needs of other people; however, well organized, labeled information, with the proper degree of specificity, arranged in a manner that is useful to others, will provide far more value, and will be far more satisfying to provide.
And take heart, even if you create a complex diagram that is not helpful in most circumstances, you may yet have a chance to use it. Just today, I got to use mine in this GuideMark commentary.
Key Words and Phrases
Precise; Methodical; Free from irregularity; Arranged orderly; Tidy; Fastidious; Systematic; Admirable.
Opposite Terms
Disorganized; Sloppy; Messy; Disheveled.
*****
Copyright © 2017 Funds For Learning, LLC. About the Funds For Learning GuideMarks.
Previous GuideMarks​​