Congratulations Tava Mazak
Funds For Learning would like to congratulate Tava Mazak on completing her year-long compliance associate internship.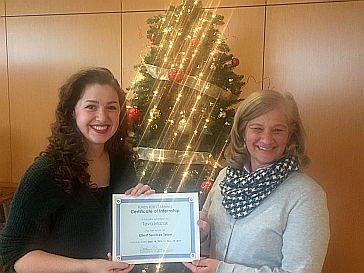 Tava started the Funds For Learning compliance associate internship during the fall semester of 2016, and was an important part of the client services team through deadlines and a filing window.
"She has great attention to detail and was very reliable. She really set the standard for what we look for in our interns," said Nick Shipley, compliance analyst. "We wish her the best in her future endeavors and know that wherever her career path lands, they are going to be lucky to have her."
Although Tava will barely miss participating in the 2018 filing window, her schedule is not going to be any less busy. Tava will be completing her final year of studies at Oklahoma Christian University, including a practicum in social services. And after graduation in April, Tava will be getting married.

"This internship was such a great opportunity," said Mazak. "I may not use any E-rate knowledge in my future, but what I learned from a professional standpoint – timeliness, being proactive, not making excuses, teamwork – is invaluable."