Excellence Is A Habit
THOROUGHNESS
Applying rigorous attention to accuracy and detail
Understanding the full scope of an assignment and seeing it through to completion
Working to the best of my ability in a comprehensive, correct and timely manner
COMMENTARY:
Quote for Thoroughness:
"We are what we repeatedly do. Excellence, then, is not an act, but a habit."
~Aristotle

Flashback - How many of us remember sitting through Logic class in college, thinking to ourselves, "Is this really going to help shape my future development as a fully aware and enlightened being?" I may not have embraced the full relevance of Aristotle's teachings then, but I have come to appreciate his view of excellence and its effect on our work here at Funds For Learning.

What is interesting about the Guidemark of Thoroughness is that it can be cultivated and maintained in a wide variety of avocations and professions, from philosophy to medicine, ballet to bungee jumping (in preparation for), bookkeeping to quilting.

Using the two latter professions for illustrating Thoroughness, there are many similarities between the administrative work I do at Funds For Learning, and the work that I do when designing and producing a quilt.

Using John Harrington's simple and elegant overview from
May 2017
of how we incorporate thoroughness into our everyday work lets discuss how thoroughness relates to both professions.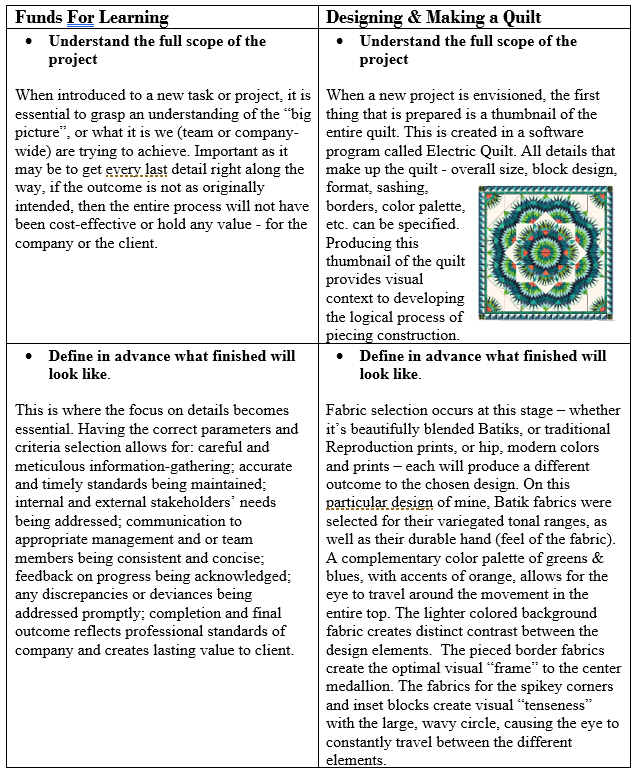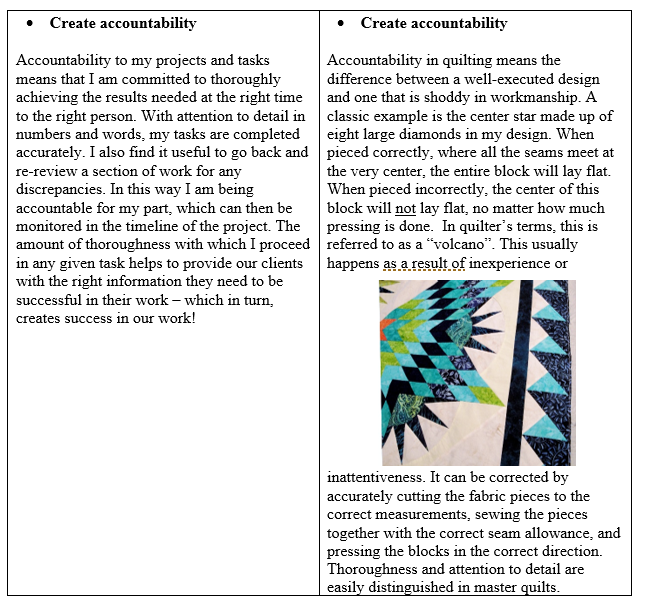 Bringing this GuideMark back full circle to it's inception point, thoroughness is something that inhabits every day of my work at Funds For Learning. I feel fortunate to work with a great group of individuals who all approach thoroughness in unique and distinctive ways. Yet we, as a company, never lose focus on why this GuideMark is one of the pillars of our foundation. By consistently demonstrating our thoroughness and commitment to providing our clients with exceptional customer service, we all are enriched by the positive results that are achieved.
Key Words and Phrases
Carried through to completion; Fully developed; Attention to accuracy and detail; Seeing it through to the end; Covering your bases
Opposite Terms
Incomplete; Partial; Lacking