Happy Anniversary, Brian Stephens!
Funds For Learning is recognizing our E-rate Guides on their anniversary, giving them the opportunity to reflect on the past year and knowledge of the industry.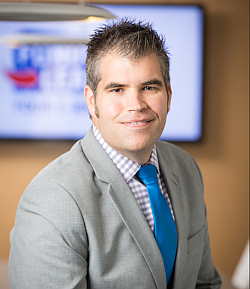 Brian Stephen's anniversary with Funds For Learning is May12.
Congratulations on your 15th anniversary with Funds For Learning. You've seen a lot of changes to the program since 2003. What were some of the program changes that stand out?
It certainly feels like the program has changed more in the past three years than it did in the twelve years before that. The easy answer is to cite things like the Sixth or Seventh Report and Order or the introduction of USAC's E-rate Productivity Center. But I think what has arguably made more of an impact on the average applicant's day-to-day interaction with the program have been the unannounced – and sometimes subtle – changes in USAC's administrative focus. Things like fluctuations in the intensity and complexity of PIA or invoice reviews over time can make the program seem like it has changed significantly even when the rules remain static.
What were some of the ways you helped stakeholders navigate through that/those change(s)?
Education first, experience second. It is imperative that program participants fully understand the rules and regulations of the program. Beyond that, it is extremely beneficial to have (or partner with someone who has) experience in dealing with the program administration at various levels.Taken together, the goal becomes one of demonstrating compliance than simply filing forms, meeting deadlines, or answering questions.
You are a Certified E-rate Management Professional (CEMP) and a recently appointed board member of E-rate Management Professionals Association (EMPA). How have you seen this organization impact the E-rate program?
Education and experience (sound familiar?) E-mpa promotes high standards among E-rate consultants and consulting firms, providing for certification, continuing education, and a common code of ethics. This ensures that applicants have a resource from which to consider reputable, knowledgeable, and ethical consultants to assist with their E-rate compliance obligations.
If you could make any change to the program, what would it be?
I think there are a few ways that the program's complexity could be greatly reduced, especially as it pertains to Category Two applications.I am hopeful that the FCC will incorporate E-rate stakeholders' suggestions to calculate Category Two budgets at the school district (or library system) level as opposed to a site-by-site basis. Using one Funds For Learning client as an example, that change would reduce the number of data points on the funding application – and subsequent post-commitment paperwork – by some 80%. I'd also like to see a bit more of a common sense approach to Category Two eligibility – there's no need to reinvent the wheel, but the rules could be reasonably expanded to include things like advanced network security and applicant-owned management and monitoring products which would substantially reduce complexity (and inconsistency) by eliminating the need for complicated and arbitrary cost-allocations.
What advice would you give to any E-rate stakeholders as they may be simultaneously navigating past, present, and future versions of the E-rate program?
Get organized if you aren't, and stay organized if you are. Document retention is more than just "keeping copies" of forms, bids, contracts, and other hard documents. It's also documenting institutional knowledge – what was the rationale behind a decision, who made it, and when? Are all my documents labeled so that they are self-explanatory in the future? Are they dated? Are they stored in an organized fashion, and is there more than one staff member who has access? Without question, the amount of time it takes to address E-rate issues – and the level of stress those issues can induce – are greatly reduced by keeping quality, well-organized documentation.
And finally, what is one song everyone should be listening to right now?
I've been firmly stuck here for a few weeks:
https://www.youtube.com/watch?v=hC8CH0Z3L54