Happy Anniversary, Eric Jester!
Funds For Learning is recognizing our E-rate Guides on their anniversary, giving them the opportunity to reflect on the past year and knowledge of the industry.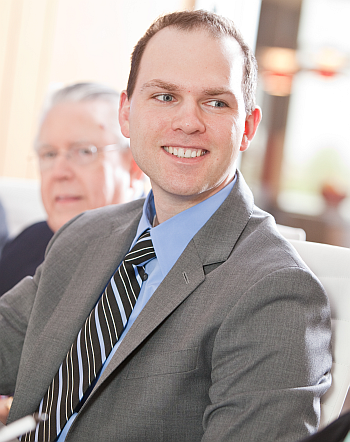 Eric Jester's anniversary with Funds For Learning is May 24.
Congratulations on starting your ninth year at Funds For Learning! Do you remember what your thoughts were after your first filing window?
The thing I remember most about my first filing window was that it seemed intense, especially near the end. And I didn't exactly know what I was doing. Luckily there were many people willing to help me. I remember late nights, working on applications and hoping I wasn't messing something up for a client. I remember the very last night, standing in Verlyne's office about 10 minutes before the deadline trying to help a client certify their applications online. I think we made it with just a couple minutes to spare.

Was there an FFL staff member or members that were especially helpful during that first year?
Definitely. I probably wouldn't have made it through the first filing window without a lot of help. I could name several people, but the person I relied on the most was Dirk. A few months after I started, we were sharing an office so he was lucky enough to be my go-to person when I had questions. During the filing window he would help me create a plan of action for each day so I knew exactly what to work on. He and Verlyne also took the time to give me feedback and help me understand more of the "why" behind our work, and not just the "how." This really helped me expand my knowledge and learn how to better organize my work load.

How have your thoughts on the filing window changed today?
Well, in a weird way I actually sort of like the filing window. I don't get that intense feeling anymore. It will always be a bit stressful and it comes with many challenges, but that's the fun of it. Ok, "fun" probably isn't the right word but I do seem to get more energized during the filing window. And tired. Somehow, both energized and tired. E-rate is weird. But as the program has evolved, so have our processes. We are much more efficient than we used to be. My mindset has changed from "I hope we finish in time" to "Let's see how much we can finish this year".

You went from starting at FFL with no E-rate experience, to being a Certified E-rate Management Professional. Congratulations on that distinction. How did your time at Funds For Learning help you prepare for that certification test?
Thanks! As a company, we do a really good job of keeping up with the many changes to the program over the years. We have internal trainings, we host trainings, and we have discussions on how the program changes will affect us and our clients. All of this really helps us to stay updated on all the E-rate happenings. So when it was time to take the test, I felt like I was in a position to do pretty well. I definitely still had to study, especially the Orders that happened before I started working in E-rate. But overall, I think FFL put me in a position for success.

I've had you think about your early years a lot in this interview, but the truth is that for many applicants they are just being introduced to the program. What advice would you have for someone just starting to work in the E-rate program.
For new applicants I would say make sure you start the process as early as you can. Get organized and keep copies of everything. For someone starting at FFL, I would say have patience (and be prepared for a lot of acronyms). There's so much to learn, and you likely won't even experience everything in the first year. It takes a lot of time and work but there are a lot of people here that can help. And ask a lot of questions.

Lastly – 2018 ALCS, NLCS, and World Series predictions:
Well, I'm not sure much in the AL changes. It's still pretty early, but we may end up seeing the exact same 4 teams in the Division series' again this year. And the same ALCS, maybe for the next few years. The Yankees look good, but in the playoffs you've got to have pitching. And Houston is just dominant in that area. And they are top 3 in almost every offensive category as well. I'll take the Astros over the Yankees in 7 games again.

The NL might be a little different this year. I'm not sure the Braves can keep it up all year, but I think they make the playoffs. They should be really good in a couple years. But the Cubs are probably the team to beat this year in the NL. I think they end up winning their division and beating the Nationals in the NLCS. Let's say in 6 games.

I know it's cliché to pick last year's winner, but the Astros are so good. They win again. Astros over Cubs in 6 games.