Happy Anniversary, Amber Seigel!
Funds For Learning is recognizing our E-rate Guides on their anniversary, giving them the opportunity to reflect on the past year and knowledge of the industry.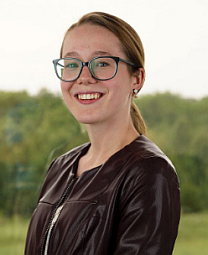 Amber Segel's anniversary with Funds For Learning is May 16.
Congratulations on your first anniversary at FFL! How would you describe your first year at FFL?
Growth. This year so many changes occurred in my professional and personal life. It's been fantastically difficult, and I am thankful for all of the lessons learned this year.

What initially attracted you to FFL?
I was attracted to Funds For Learning's dedication to serve schools and libraries. Education is critical for an individual's prosperity and is crucial for a stable, successful society. Funds For Learning's pursuits equips educators with the best tools for learning. We serve places of academic development, so that teachers and librarians can continue being the key to a child's bright future and an impetus of greater change in society. I appreciate that every day at Funds For Learning I can help amazing educators do amazing things.

What advice would you give a new graduate that is now transitioning into a professional role?
Take your time in determining your career. After graduation (and probably during your entire college career), you may feel pressured to know all of the answers. You may want to know where you should land. Relatives may be anxious to know where you plan on working. Educators may encourage you to enter grad school now. Recognize it takes time for someone to grow into a full person. Explore the world, have patience with yourself as you grow, and take solace in the knowledge that life is a story you create.

We have had you serve as a Guidemark professor for our new staff. How did the Guidemarks shape your first-year experience at FFL?
The best part of the GuideMarks is that they are a multi-purpose tool. If work is tough, reading a GuideMark like Calming Presence improves my perspective. If I need to better develop my work performance, reading a few of the GuideMarks will help me center myself, while providing a personal goal to move toward. Reading the GuideMarks, such as Teamwork or Share the Reason, often times reminds me of the resources around me. Since the GuideMarks are so versatile and constructive, I find myself looking to the GuideMarks in my professional life, as well as my personal life

Do you have a favorite Guidemark?
I like working with a team, so Teamwork would be my favorite GuideMark. Work is better done as a collective. Work alone is depressing and arduous. When you have a team to work with, problems become easier, tasks become fun, and you find yourself learning and growing as a person.

You were the winner of the inaugural FFL Christmas Carol Lip-Sync Battle Extravaganza ™. How do plan on topping last year's performance?
You know what tops bad lip-syncing? Bad Karaoke

Lastly, fill in the blanks:
You should read _____
"A Severe Mercy" by Sheldon Vanauken
You should listen to ______
Space4Lease song "Drifting" (They are a local band, so if you are in OKC, I would recommend seeing them in person.)
You should watch______
The Age of Adaline