Happy Anniversary, Stephen Sharp!
Funds For Learning is recognizing our E-rate Guides on their anniversary, giving them the opportunity to reflect on the past year and knowledge of the industry.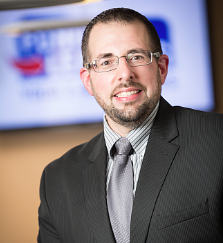 Stephen Sharp's anniversary with Funds For Learning is June 13.
What were some of the most memorable changes to the E-rate program during your tenure?
There are several that come to mind (Bishop Perry, Queen of Peace, Sixth Report and Order, the Modernization Order, etc.), but the most impactful to the programs and stakeholders would have to be the Modernization Orders. Not only, did the Orders drastically change and refocus the program and its rules, but there is an obvious continued impact on the processes and tools. As many of USAC's processes and tools are implemented and updated within EPC, it affects the stakeholders on a daily basis with communications to USAC, form/application filing, and general navigation of the E-rate program and tracking of funding.

Some of those were definitely program-altering. How did FFL prepare to guide clients through these seasons of change?
As a part of navigating the clients through change and in general, we've always emphasized the importance of equipping and empowering our clients to succeed. As such large part of what we do is provide training to our clients to ensure they are aware of the program requirements, any program changes, or other changes that could impact their funding. We do this through various means, including the articles on our website and in our weekly newsletter, conducing webinars, helpdesk support, in person trainings, etc. Additionally, many times the application of rule changes result in the modification of or new USAC online (EPC) tools and processes. We have a suite of tools, for managing/tracking funding and form preparation and submission. These tools are constantly being adapted and updated to allow for us to minimize, or absorb the impact on our clients of any changes.

You were one of the earliest FFL staff members to gain CEMP recognition. How did the preparation for guiding clients through these changes prepare you for the exam?
In short, you cannot teach what you don't know. We are constantly reading and rereading FCC Orders, USAC guidance, monitoring/tracking funding trends, etc. in order to better guide and advise our clients. So, I would attribute my passing to the knowledge and experience that I gained over the years, from guiding a very diverse group of applicants, as well as from working with many other knowledgeable FFL colleagues.

You do a lot of work on state applications. What is the biggest difference working on state-wide applications rather than individual school districts?
Now that everything (most everything) is done in EPC at the FRN line/circuit level, the biggest differences or challenges are the sheer volume of information, and EPC profiles/recipients of service.

What is your favorite part of working on state applications?
My favorite part of working on state applications is really the same as working with other applicants but on a larger scale. I am helping to get dollars and Internet access to the classroom. We don't always get to see the impact directly, but being in a family of teachers, I understand the importance of access to technology. It's a blessing to be able to be in a position to have a part in a program that has a real world positive impact on the classroom and students' lives.

What advice would you give to states looking to submit a state-wide application?
Obviously, state-wide networks aren't formed over-night. They take a considerable amount of time, resources, and research, and each state is very different (differing procurement laws, district regulations, environmental/regional challenges, etc.). Purely from a filing stand point, I would have to say start yesterday and communication will be key (identifying bandwidth needs, network structures, current contracts, etc.), with the schools and libraries that will be members of the consortium application. I would also suggest talking to other states that are currently filing state-wide applications, to identify potential challenges and best practices that may assist in the process. Oh yeah, and if you aren't already, get proficient in Excel. :)

You're a big OSU fan. Predict the score of Bedlam 2018:
That's a tough one. Bedlam is always difficult to predict, and this year there are very notable departures on both teams, including two of the best quarterbacks in each program's history. Even though the game will be played in Norman, I'm giving the edge to the team with a proven veteran coach Mike Gundy. Lincoln Riley did a great job last year, but that was with a system that was already in place, and with one of the program's best quarterbacks and a Heisman trophy winner. All things considered, I'm going to go with a slightly below average overall point total (best guess) of 38-30, of course picking Oklahoma State to win.