O'Brien, Rigdon Celebrate Decade of E-rate
On August 23, 2018, Funds For Learning celebrated two of its own for achieving 10 years of E-rate Guide experience.

Jeff O'Brien joined the FFL team in April 2008 and has worked diligently to provide schools and libraries with accurate and timely reimbursements, and E-rate financial support. Over the years O'Brien has advised numerous E-rate applicants in situations from preparing BEAR reimbursements, to Service Substitutions, to advocating on an applicant's behalf to a vendor about incorrect invoices. No matter the situation, O'Brien strives to provide the best service possible and help applicants receive they funding they need.
Micah Rigdon, a coffee enthusiast, has always been a calming presence for the E-rate applicants under his care.
Rigdon initially joined FFL in 2005, then worked with students at a local church from 2008 to 2011 before returning to the company. During his combined 10 years at FFL, Rigdon has consistently worked to guide applicants through the maze of E-rate. He has been an integral part of teaching new FFL Guides the ways of E-rate and is currently a compliance manager.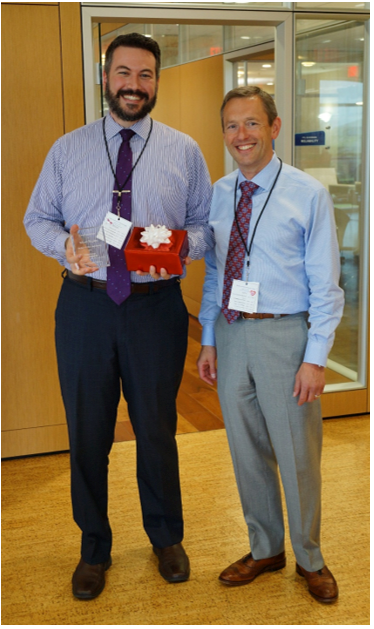 Both O'Brien and Rigdon are Certified E-rate Management Professionals (CEMP). FFL has supported applicants in ways made possible with the help of these two Guides. Both Guides were honored with FFL's customary 10-year celebration plaque and watch and joined the ranks of those who have witnessed at least 10 years of E-rate with FFL. There are currently 14 E-rate Guides at FFL who have achieved this momentous milestone.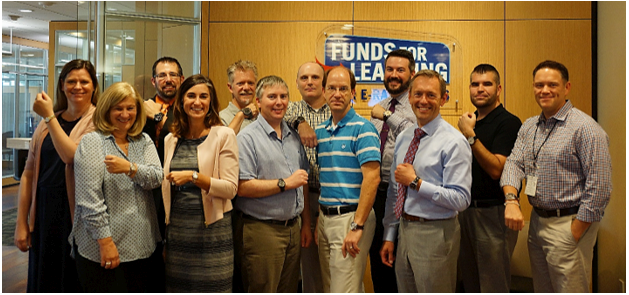 (Above: E-rate guides with at least 10 years of experience at Funds For Learning show off their ceremonial watches. Not pictured are Lori Fadok and Peter Kaplan.)