Band is Cool
REINFORCE THE GOOD
Recognizing and supporting the positive values demonstrated in other people's actions
Fostering an environment that encourages GuideMarks and other healthy behaviors
Acknowledging, with specificity, the good work of others
COMMENTARY:
When growing up as a kid I was a band geek – officially for 7 years. Yes, I am proud. I had two band directors, one in Junior High and one in High School. Here is that story.
The band director in Junior high was tyrannical. He threw instruments, screamed and had tantrums. He told us while outside marching in August heat for 8-hour band practices "I can see those bottoms wiggling and you better tighten them while marching." He screamed at us through a megaphone. This band director scared us. We were sweaty, exhausted, and discouraged. We competed at an average level and received Division 2's in competition which isn't desired.
The band director in High School was good looking (side note). He was calmer, encouraging and lead by example. He was a cool cucumber. He encouraged the seasoned band members to teach us how to march backwards and side to side (yeah, we did) and set up a team environment. There was no screaming and spit flying throughout the band hall. We were a rowdy band still, when someone did something bad, we didn't get persecuted. Even when the tuba's fell off the top of the stadium stairs and went crashing down below, somehow people lived!
This 220-piece band excelled. We won Sweepstakes band, which means you are very good. We won several Division 1 awards throughout the time I was a part of the band. We also had a lot of fun memorable times.

After competing in a state marching contest in Austin and being awarded 2nd in the state of Texas for 3A schools we were allowed to take the sheets off the beds of the hotel, go over to UT and run through the campus, toga style and then party in the parking lot of the hotel all night long.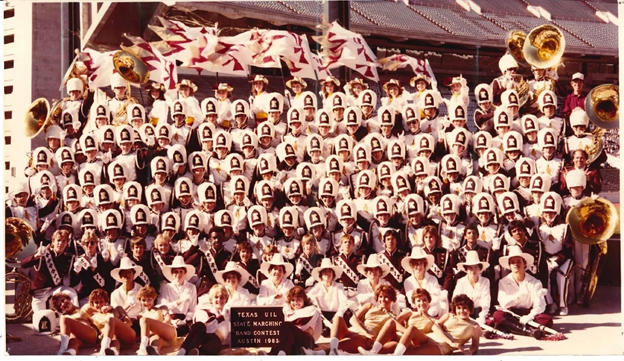 State Marching Contest Austin, TX 1983

The difference in the leadership between the 2 band directors created different environments and results. One created fear and mediocre results, one created confidence and a winning band.

Encouragement strengthens confidence, hope and resiliency. Be the change!
Key Words and Phrases
Encourage a response; Support; Reward an action; Strengthen or increase; Instruct; Boost or shore up; Affirm and validate; Foster and sustain; Bolster or amplify; Emphasize or stress
Opposite Terms
Tear down; Weaken; Ignore; Undermine
GuideMarks – Distinguishing Characteristics of FFL E-rate Guides