Filing Comments on the FCC's Public Comment (ECFS) System
On July 5, 2012, the Federal Communications Commission released the draft Eligible Services List (ESL) for Funding Year 2013. Comments to the FCC's proposed changes are due on August 6, and reply comments must be submitted by August 21.
The easiest way to file comments or reply comments on the draft ESL is to use the FCC's Electronic Comment Filing System (ECFS) filing system. This will allow you to submit your prepared comments (Word, Excel, PDF) and reference the proceeding.
From the ECFS page, you will want to make the following references on the form: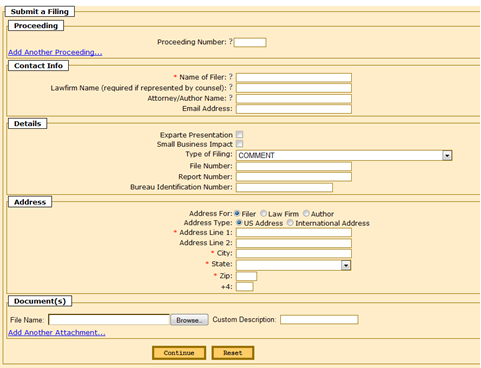 Proceeding: 02-6 (this denotes E-rate)

Contact Info: The name of the filer is required.

Details: From the drop down menu, select "COMMENT".

Address: Address, city, state and zip code are required.

Documents: Upload your prepared comments as an attachment. You can use the "Custom Description" field to specify the comments are in regards to the ESL (e.g. Comments on Funding Year 2013 Draft Eligible Services List). Select "Browse" and find where your document is saved on your computer or network. You can also enter a custom description of your document. You will receive a confirmation message (with confirmation number) noting that your submission was accepted.
After submitting your comments you can Search for Filings, Search for Proceedings, Submit a Filing, or Check Your Filing Status by visiting the ECFS Homepage. To view comments submitted by others, choose the "Search for Filings" option and search for Proceeding Number 02-6.