Today I learned an interesting fact: it's 2015. All day, my colleagues have been trying to convince me that it has been 2015 for something like eight months now. I'm honestly not certain about all that. But I have been able to independently verify through a careful and lengthy series of Internet research that today – today it is, in fact, 2015.
One of the most interesting facts about it being 2015 is that ten years ago, it was 2005. (That part is math. I just did that one in my head.) We technologists aren't particularly given to thinking about the past. But in the interest of intentional learning (thereby moving this entire exercise from "slacking off on Friday" to the "see, I'm actively exercising one of FFL's core characteristics" category – score!), I was able to carefully and lengthfully research some other facts about 2005:
This week in 2005, "We Belong Together" by Mariah Carey was at the top of the Billboard charts, and had been for seven weeks.

This week in 2005, "The 40-Year-Old Virgin" was at the top of the box office for the second week in a row.

This week in 2005, "The Da Vinci Code" was at the top of the New York Times best seller list, having moved up from the #3 spot the previous week (and having spent a total of 126 weeks on the list.)
And now, an indented aside.
SERIOUSLY, AMERICA. What on earth was society thinking ten years ago? Say what you will about the "state of our great nation," but after bubblegum pop, 40-year-old virgins, and Dan Brown, I'm going to consider us extremely fortunate to just to have made it here. Here to 2015.
Indented aside over. As it turns out, something of lasting value did actually occur in 2005. Stephen Sharp and Joan Manning both started their glamourous and fulfilling journeys with Funds For Learning. If you're keeping count, that makes ten of us who have been here for ten years or more. That's 100 years of E-rate, folks. (And that's more head math!) What an attractive group: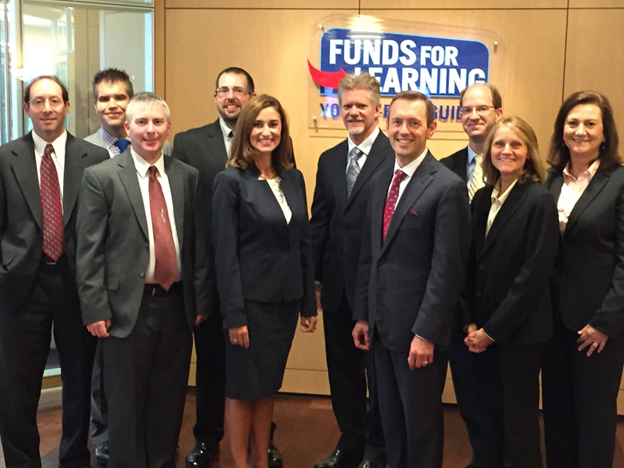 Back row left to right: Peter Kaplan, yours truly, Stephen Sharp, Brian Guire, Tim Bethke, Lori Fadok.
Front row left to right: Russell Weed, Cathy Cruzan, John Harrington, and Joan Manning
And this – this is a photo of ten people who have been at FFL for ten years getting their photo taken, making it the most meta photo in company history: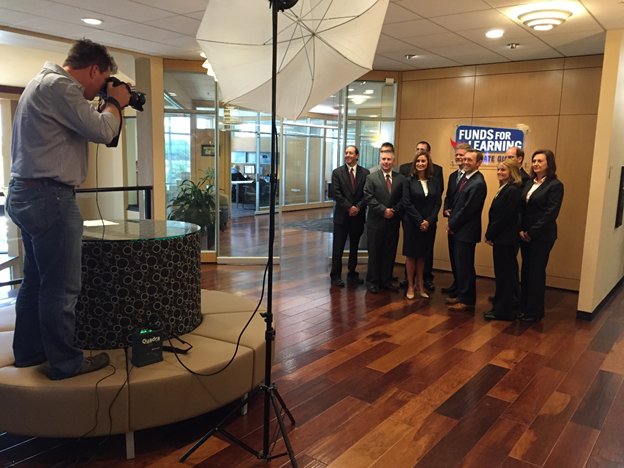 So congratulations to Stephen and Joan! May the next ten years be as fantastic as the last five have been.