School and library applicants continue to submit Form 470 applications at a slow pace, albeit similar to last year's competitive bid season. As previously noted, Form 470 bidding notifications came in at a faster clip in the pre-reform E-rate days (e.g., FY2013 and FY2014).
The new norm appears to be a slower start to the bidding season. As of this morning, a total of 245 FY2016 Form 470s have been submitted. Of those, 171 have been submitted via the new EPC system.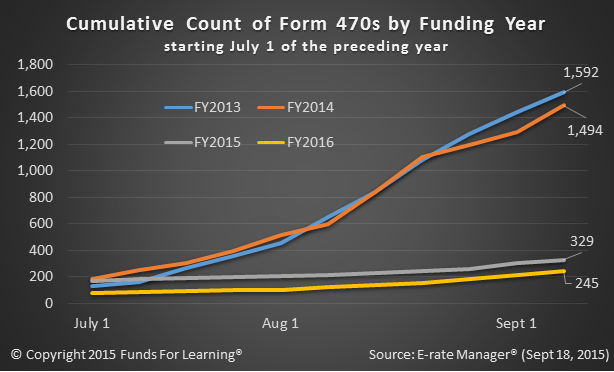 NOTE REGARDING ARIZONA, CALIFORNIA AND WASHINGTON STATE FORM 470s: This data analysis includes Form 470s posted for entities in Arizona, California and Washington State. The EPC system currently returns an error message when locating Form 470s for these states. However, Funds For Learning's own Form 470 database includes all Form 470s for all states. We have notified USAC of the limitation in their search tool.