Approximately 54% of individuals have activated their user account in the EPC system. Funds For Learning estimates that 18,109 accounts have been established out of a total forecasted user count of 33,239.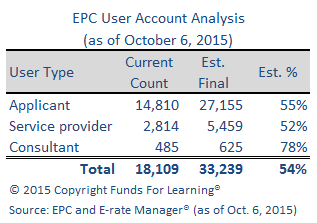 An EPC account is necessary in order to access information and to submit electronic paperwork to USAC. USAC launched the new system in July 2015, and has since been encouraging all E-rate participants to set up their accounts. Given the relatively short timeframe since its launch last summer, it appears that USAC's attempts so far have been successful in encouraging activations.
NOTE: The estimated final count of EPC users is based on (a) the count of unique individuals listed on FY2015 Form 471 applications, Block 1 and/or Block 6 (for applicants and consultants); and (b) the count of unique service providers identified on FY2015 funding requests. For purposes of this analysis, it is assumed that there will be only 1 individual account per service provider.