USAC has announced that E-rate funding applications can be submitted starting February 3. It is good to see the filing window open in February and… I recommend that most applicants wait until March to submit their paperwork. Let me explain.
This is the 19th filing window. I have had the opportunity to prepare paperwork in each one of them. If I have learned one thing in all these years, it is that timing impacts everything. When it comes to the E-rate program, doing something too early, or doing it too late, rarely works. When your timing is good, the process works well. When your timing is bad, the process gets much harder. Timing matters.
Which brings us to this filing window. USAC has acknowledged that their new system will "likely present many opportunities for learning and improvement as users begin filing their applications." In other words, USAC will need a little time. It's a new system and USAC expects that a few wrinkles will need to be ironed out before the system is ready for 25,000 applicants to come rushing in. This is not unusual and it certainly is not a surprise for anyone that uses software. We live in a world of updates, patches and bug fixes. I respect and appreciate USAC's transparency.
Here is my suggestion: aim for the middle. Wait a few weeks before you try out the online Form 471. Let USAC test it out and get it ready for you. Then, in March, get in there and submit your application.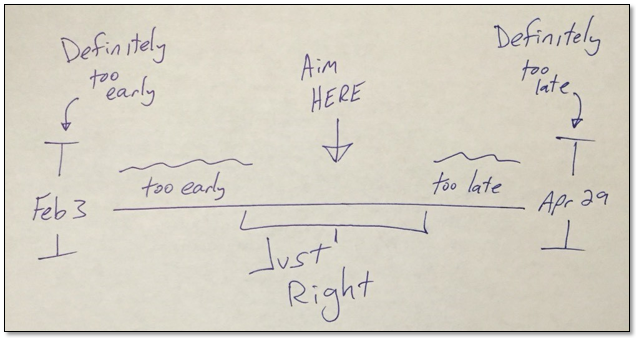 Waiting until March will give you the best of both worlds. You'll avoid the initial hiccups that are likely to occur during the live-testing phase of the site. Plus, you won't run the risk of getting caught at the end of the filing window when everyone who waited for the last minute decides to jump in for the first time. Submitting your application in March will still place you in the "early" category of application filers and you will be able to sleep better at the end of April not worrying whether or not the USAC system is going to crash. (Hopefully it won't, but you will not have to worry about it either way.)
In the meantime, there will still be work you can do, such as finalizing your site lists and NSLP information, reviewing bids, and awarding contracts. (And, if you are an E-rate Manager® user, you can go ahead and finish your Form 471 and Funds For Learning will get it loaded into USAC's portal for you.)
#####
This year represents an historic opportunity. Our schools and libraries desperately need broadband Internet connections — and the E-rate program is offering more support than ever before.
The FY2016 filing window is about to open and it's likely to bring a few twists and turns along the way. But if we are all patient – and if we all practice good timing – students and learners of all ages, and in all communities, will benefit from our hard work.