There has been a significant increase in USAC collections activity related to very old invoices. In calendar years 2017 and 2018, many applicants were surprised to learn they owed money back to USAC for services delivered a decade or more ago. A total of $53.9 million of these old services came into question, and the trend is continuing into 2019 with more applicants receiving commitment adjustment and payment demand letters from USAC. Applicants should watch carefully for these types of changes and be ready to dust off old files to prepare their appeals.
###
Special reviews and audits can result in funding commitments being reduced after USAC has issued a payment(s). When the new funding commitment amount is below that which was already paid by USAC, it creates a financial liability for an E-rate applicant. These commitment adjustments (COMADs) and repayment issues occur every year, but most of them happen within five years of a funding commitment decision letter.
Although five years is a long period, because of the nature of the E-rate cycle, it is not entirely unusual for COMADs to take this amount of time. Depending upon the type of service, it could take a year or two to reach the last allowable service date. Invoice processing at USAC can take months. Followed by an audit that could occur a year or two later. Add in a year or more for the final audit results — and USAC issuing a COMAD and a notice to repay funds — and the total time can add up to five years. This is not ideal, but it is the system as it has existed.
But something changed in 2017. Applicants started to see USAC change funding commitments and seek repayment for services delivered a long time ago. Much longer. In some cases, ten, fifteen, or even twenty years after the fact. The chart below illustrates the count of changes each calendar year and the relative age of the funding commitments involved.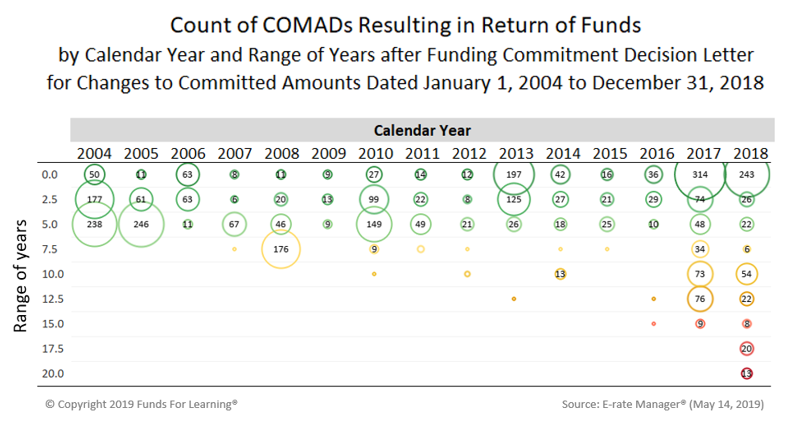 Beginning in 2017, a significant portion of older funding requests began receiving commitment adjustments. In 2017, 25% of the COMADs were for funding requests that were a decade older or more. In 2018, the percentage rose to 28%.
These changes to older funding requests in 2017 and 2018 represent a total new liability to schools and libraries of $53.9 million; unfortunately, the trend is continuing in 2019. We can speculate as to the reason for these modifications and repayment requests, such as the
Net56 order
, but the fact remains that applicants are being asked to justify and defend purchases that are far past the document retention requirements of the program.