Monday, October 28, 2019, is the last date to submit payment paperwork for 6,912 funding year 2018 Category One (C1) E-rate funding commitments. After the deadline passes, regulations will cut off the flow of funding for these services. An invoice extension request can keep the funds available for another 120 days, but only if the extension request is submitted by October 28. There are 4,690 applicants with a total of more than $113 million at risk because of this rule. To protect those funds, E-rate participants are urged to submit invoice deadline extension requests immediately.

FY2018 Category One Funds
$1.67 billion has been committed for Category One services in funding year 2018. Of this amount, $1.11 billion has been authorized for disbursement. This leaves a balance of $568 million in committed, but yet not disbursed funds. Of this amount, $113 million has an invoice deadline of October 28, 2019.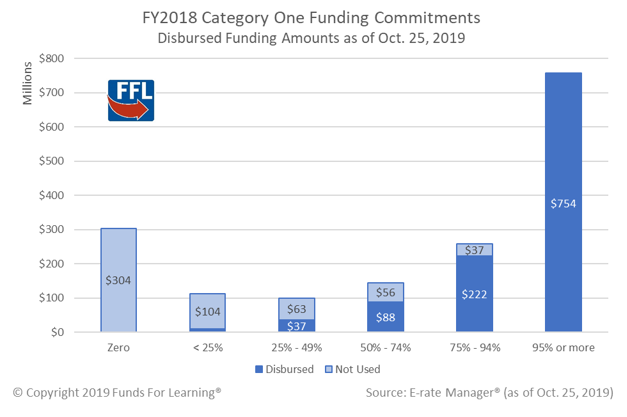 More about the Invoice Deadline Extensions
If an applicant or service provider has not received all its expected E-rate payments, they must submit an invoice deadline extension request by the last date to invoice associated with each funding commitment. For most Funding Year 2018 recurring services, this deadline is Monday, October 28, 2019. There are three groups that should immediately submit an extension request:
Applicants and service providers who have not completed their payment paperwork and know they need more time to submit it.
Applicants and service providers who have submitted invoices which have not yet been processed by USAC. If the pending paperwork is denied or short-paid, a new invoice may need to be submitted, but it can only be submitted if the invoice deadline has already been extended.
Applicants and service providers who are not sure if they will need more time or not to submit payment paperwork.
In each of these three cases, participants are strongly encouraged to submit their extension request.

Submitting an Extension Request
Applicants can request an extension by logging in to EPC and selecting the "Records" tab at the top of the page. Applicants will need to search for and select their BEN, and then click on "Related Actions" from the top menu. Finally, applicants will need to follow the "Invoice Deadline Date Extension Request" link and follow the prompts for entering the FRN detail and checking the FRN extension eligibility. Once the FRNs are listed and submitted, the extension will be automatically granted.
Service providers can also request an extension by following similar steps. From the landing page, providers should choose the "Records" tab and search for their SPIN. Next, click "Related Actions" from the top menu, and then the "Invoice Deadline Date Extension Request" link.

It is important to note that the tool does not pre-populate data based on an application or funding year, nor does it make any assumptions as to what the user wanted to include. For example, if you want to include all the FRNs from a certain application, you will need to put all the FRNs individually into the extension tool and check the eligibility of the FRNs. To mistakenly leave an FRN off an extension request would require an appeal to get it added. It is worth the time to carefully review your extension request and confirm that all the FRNs that should be included, are included prior to hitting submit.

Also, it is important that users do not rush through the "check eligibility" stage of the extension request. This is the only safeguard against typographical errors in the tool. If a user transposes some numbers, the incorrect FRN should be flagged as ineligible for an extension. If a user has any FRNs flagged as ineligible, they could carefully review the FRN and make certain that they input the correct FRN.

EPC users will receive an email confirming the extension and the decision will also be included in the user's "News" section in EPC.

While the extension is automatic, it is still a one-time extension. If an applicant or service provider fails to meet the new deadline, the funding would be in jeopardy. Once the extension is filed, applicants and providers should be diligent in invoicing USAC, taking into consideration that any reimbursements not processed by the second deadline may be denied and lost.