The Category Two budget system has provided over $4.35 billion of E-rate support to schools and libraries since 2015. As the FCC is considering improvements to the system, one area that stands out is the utilization of C2 budgets at "floor" sites – small sites that qualify for the minimum C2 budget amount. There are 17,299 of these sites nationwide, and each has a maximum budget of $9,793. Their average E-rate discount is 77%, making their expected average E-rate funding $7,561.
Unfortunately, these sites are far more likely than larger sites not to apply for Category Two discounts. (See FCC NPRM comments page 11.) It is generally agreed that the minimum budget of $9,793 is inadequate to serve the needs of nearly any small school or library campus.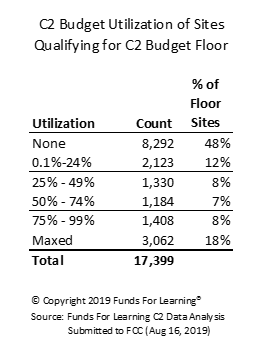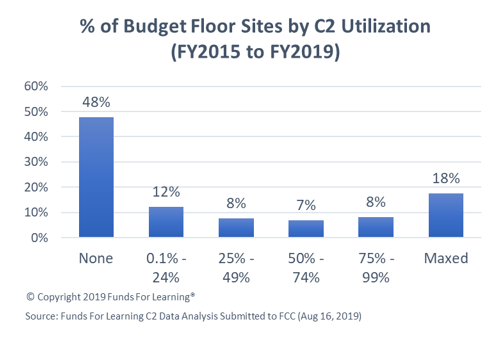 The following table shows the counts of applicants and sites impacted by the current Category Two budget shortfall. There is an estimated total five-year shortfall of $841.9 million, impacting 37,794 sites nationwide. Increasing the budget floor to $25,000 would benefit an estimated 19,615 of the sites that are currently underserved by the C2 system. Of the $841.9 million total five-year shortfall, $243.3 million (28.9%) would be addressed by this increase in the minimum C2 budget. The group of applicants receiving the highest percentage increase in support would be single-site applicants.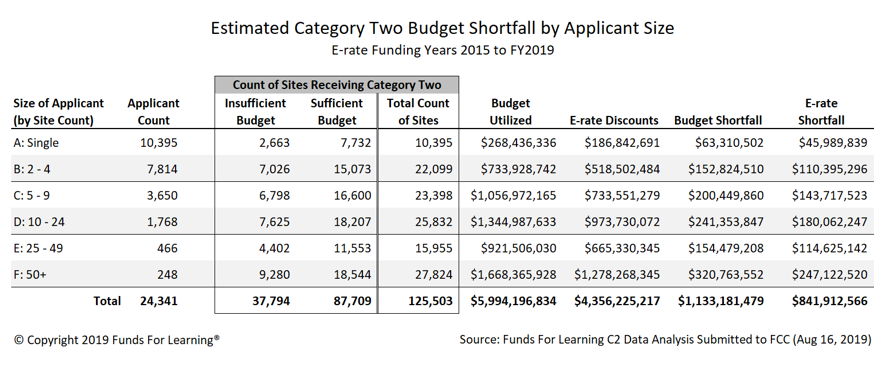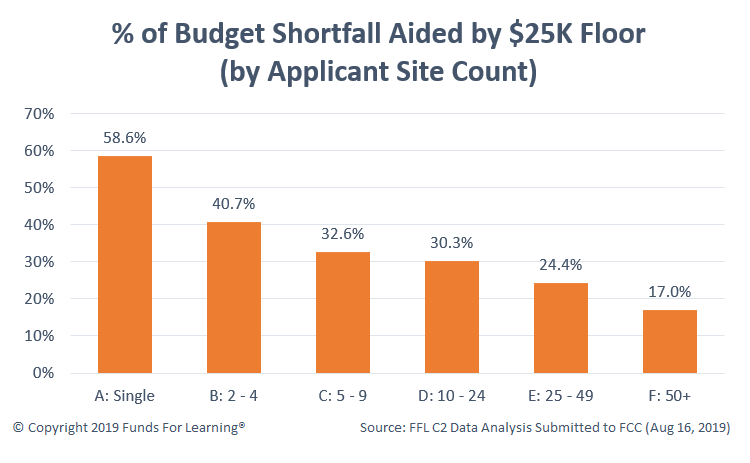 Increasing the minimum budget floor would reduce the Category Two discount shortfall by an estimated $243.3 million over five years. This would bring additional support to an estimated 19,615 sites, speeding the deployment of Wi-Fi in small schools and libraries.
While this improvement would bring significant support to many sites, the majority of the current C2 shortfall would go unmet. $598.6 million in additional E-rate discounts would still be needed in order to adequately serve our nation's schools and libraries.
###
The opportunities to improve the Category Two system are multi-faceted, and therefore require a multi-faceted approach. Because of this, Funds For Learning recommends that the FCC adopt consolidated (system-wide) budgets, an increased budget floor of $30,000, a per student budget factor of at least $250, and a $6.00 per square foot budget factor for libraries. Taken together, these changes should address Category Two budget shortfalls for the majority of E-rate applicants.