Ready to get started? We're here to help!
Our mission is to provide high-quality consulting and support services for the needs of E-rate program participants. We consult with applicants to help them understand, effectively utilize, and maintain compliance with E-rate rules and regulations. We help prepare and submit paperwork, and interact with program administrators on our clients' behalf.
Please visit our contact page or use the form below to receive more information.
E‐rate compliance is the sole focus of our business. We specialize in helping schools and libraries succeed.
Knowhow and resources are central to our service. We are the nation's largest E‐rate consultancy.
Teamwork is key. Like Internet access, excellent E‐rate work requires layers of support and backup.
Empowerment is a core value. Clients have 24/7 access to their documentation via E‐rate Manager®.
We have prepared more than 25,000 funding requests totaling $2 billion.
We have conducted more than 1,000 training sessions, in-person and online.
We have 12 Certified E‐rate Management Professionals (CEMPs) on staff.
We have a strong record of pursuing successful USAC and FCC appeals.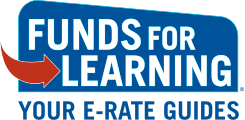 Funds For Learning, LLC
2575 Kelley Pointe Parkway
Suite 200
Edmond, OK 73013