The number of Form 470 applications posted to the SLD's website for the upcoming funding year is ahead of the number posted in the same time period last year, according to a recent analysis by Funds For Learning. This follows a trend in recent years for applicants to post their Form 470 applications early in advance of the announcement of the Form 471 filing window for the next funding year.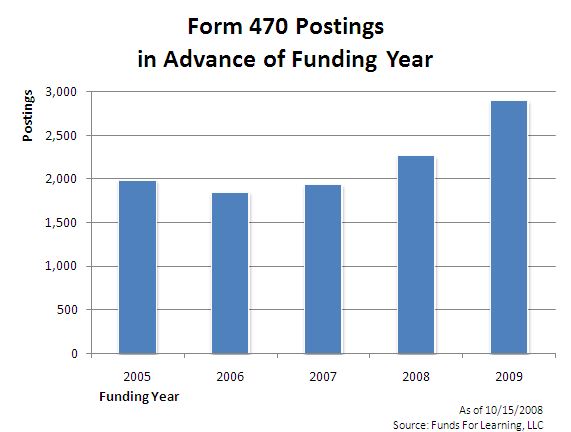 This year's postings, a total of 2,901 as of October 15, 2008, represent a 28% increase over postings for last year. For the same period in advance of Funding Year 2008, 2,267 Form 470 applications were posted. For the entire season a total of 31,306 Form 470 applications were posted indicating procurement proceedings for Funding Year 2008.
On the Form 470, an applicant can select one or multiple service categories in which it anticipates purchasing goods and services in the upcoming E-rate year. When comparing the service categories selected on the Form 470 applications posted for the same time over last year, all service categories except for Internal Connections have been selected more often.