The number of Form 470 applications posted to the SLD's website in advance of the FY2010 application filing window closely mirrors previous years, according to an analysis by Funds For Learning. With 32,857 applications posted, schools and libraries filed just over 1,000 more forms this year than during the same period last year.
In keeping with the trend of previous years, the number of forms filed each day increased dramatically in the days leading up to the de facto Form 470 'window', which is 28 days prior to the close of the Form 471 application filing window. The following chart illustrates the similarity of Form 470 postings for the 2008, 2009, and 2010 years, when adjusted for the close of the Form 471 filing window.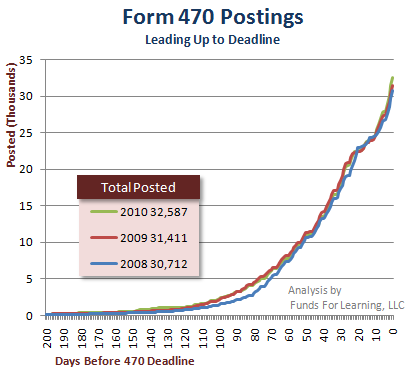 More than 1,000 postings occurred during each of the four days leading up to the January 14 cut-off for Form 470 applications to be used on FY2010 requests. The date with the greatest number of postings for FY2010 470s was Wednesday, January 13 with 1,339 postings. This is the fifth busiest day for Form 470 postings of all time. The day with the most 470s posted in E-rate history remains January 10, 2007 when 1,529 forms were posted.
For Funding Year 2010, February 11, 2010 is the last date on which applicants can request funding for the upcoming funding year.