Survey question seven asked applicants to respond to a series of eight agree or disagree statements regarding the E-rate program's importance, historical success, and future growth.
Question 7 Fast Facts
Approximately 90% of respondents stated that the E-rate program is critical to their success.
Only about 40% of surveyed applicants believe their Internet access is adequate for their needs.
Around one-third of respondents believe the E-rate program is adequately funded.
Questions and Responses
The E-rate program is critical to our success.

Agree:558 Disagree:38

This question highlights the importance of E-rate program funding to applicants. Over 90% of respondents indicated that E-rate funds were critical for the success of their school or library.

Job done. The E-rate has fulfilled its purpose.

Agree:192 Disagree:401

While some applicants agree that the E-rate program is fulfilling its originally stated purpose, 68% of those who responded to the question indicated that they believe the job is not done.

The E-rate program is adequately funded.

Agree:186 Disagree:403

Approximately 70% of respondents believe that the annual amount of funds available for distribution via the E-rate program is inadequate. In Funding Year 2012, the annual funding cap was set at $2.338 billion, less than half of the total requested.

Our buildings are wired. Eliminate Priority Two (Internal Connections and Basic Maintenance) and focus on Priority One (Telecom and Internet Access).

Agree:310 Disagree:281

Opinion was split on the question of eliminating the Priority Two funding categories (equipment purchases and maintenance) in favor of funding connectivity services exclusively. Just over 50% of those who responded to the question supported the elimination of Priority Two funding.

Our Internet connectivity is adequate for our current needs.

Agree:242 Disagree:351

The E-rate program provides applicants with discounts on the purchase of Internet bandwidth. 59% of those who responded to the question indicated that their current level of Internet connectivity is not adequate for their needs and demand.

We currently allow, or plan to allow, after-hours community use of our technology resources.

Agree:259 Disagree:332

The FCC's Sixth Report and Order gave applicants the authority to allow members of the community (normally classified as ineligible users) to make use of E-rate discounted connectivity and infrastructure services at school locations during non-operating hours (evenings, weekends, and holidays.) 44% of the applicants who responded to this question indicated that they allow after-hours community use.

E-textbooks and "BYOD" will increase our demand for E-rate funded goods and services.

Agree:521 Disagree:69

Almost 90% of those who responded to this question indicated that they expect that their need for connectivity and infrastructure services will increase as they adopt digital textbook and bring-your-own-device (BYOD) initiatives.

We rely on E-rate funding for basic maintenance support of our technology infrastructure.

Agree:265 Disagree:327

The E-rate program provides discounts on the basic repair, upkeep, and support of eligible voice, video, and data distribution infrastructure. Approximately 45% of the respondents indicated that they currently receive E-rate discounts on infrastructure maintenance services.
Statistical Analysis
In addition to their survey responses, 434 respondents provided information about their entity to be used for the collection of historical E-rate funding request data. Using this information, we compared the responses of applicants who had recently received Priority 2 funding commitments to those who had not. While most of the responses were fairly consistent between the groups, there were two marked differences: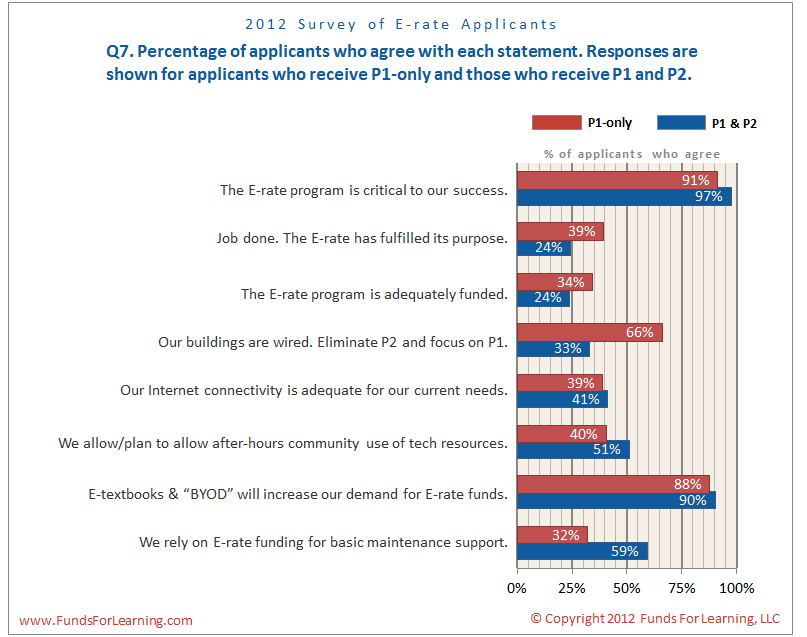 Almost twice as many applicants who do not receive Priority 2 funding support the idea of eliminating the Priority 2 categories as those who have received P2 funding in recent years. In addition, significantly more respondents who receive P2 discounts indicate that their organization relies on basic maintenance services than those who do not.
The results to this question show that an overwhelming majority of survey respondents agree that E-rate funding is critical for their organization to achieve its goals. Further, applicants who have received Priority 2 funding in recent years report that discounts on Priority 2 products and services are critical as well.
In Part 2 of our survey analysis, we will take a look at applicant opinions on the predictability, speed, amount, and flexibility of E-rate funding.