USAC's Schools and Libraries Division hosts monthly service provider conference calls, providing information and guidance for vendors participating in the E-rate program. Highlights from the July 3, 2013 service provider call include:
June 2013 Commitments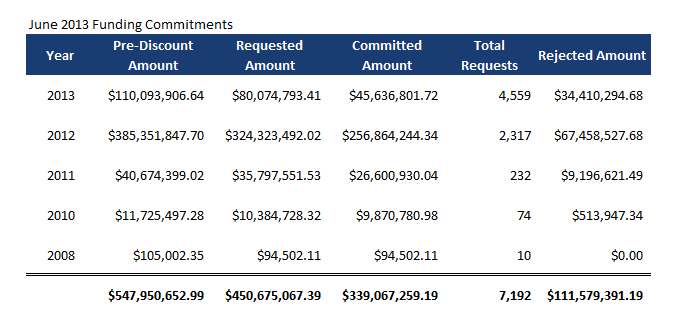 Form 470 Available for FY 2014: FCC Forms 470 may now be filed for Funding Year 2014 via USAC's website. USAC can also process paper Forms 470 for Funding Year 2014. Applicants are reminded that while FY2013 Forms 470 may be used for contracted services on a FY2014 funding request, FY2013 470's may not be used for tariff or month-to-month services on a FY2014 application.
Invoicing Update: Payments for the month of June totaled over $170 million against $216 million in requests. Invoices were submitted by nearly 1650 service providers, and 98% were processed within 30 days. The top invoice denials included:
Duplicate billing
Total commitment paid
Invoiced after the deadline
Billed after invoice date
Invalid SPIN
Q&A: The SLD addressed a question from a concerned service provider who wanted to know what they should do if their customer receives a service certification for invoicing purposes and the contact is on summer vacation. The SLD advised service providers to reach out to their customers and let them know that schools should contact the SLD and provide information for a valid summer contact so invoices can be paid and PIA questions can be addressed in a timely fashion.
The SLD also addressed a question regarding service provider contract disputes with their customers. Generally speaking, the SLD does not get involved in contract disputes and the parties involved need to look toward the specific contract language in the agreements.
Note: The information above is not the official minutes from the call, but simply notes from Funds For Learning. The official minutes for this call, as well as call minutes from previous months, may be found here.