Each funding year, USAC is careful to apply the FCC's rules in its review of E-rate funding applications. This review process often results in modifications and reductions in funding requests. These changes are spelled out in the funding commitment decision letter each applicant receives.
Take, for example, FRN 2338469. This is a FY2012 telecommunications FRN that was funded on December 11, 2012. The FRN had two modifications associated with it:
Modification #1
"The FRN was modified from $1,775/month to $1,663.12/month to agree with the applicant documentation."
Modification #2
"The amount of the funding request was changed from $1,663.12/month to $1,594.41/month to remove: the ineligible services: Additional Listings for $12.45 and Emergency Redundant routing for $56.26."
The first modification lowered the funding request based on the documentation provided to USAC, most likely a copy of a prior invoice.
The second modification lowered the funding request by removing two services that the FCC considers ineligible for E-rate discounts, additional listings and redundant services.
The more rules that are involved, such as the ineligibility of redundant services, the longer the application process can take. As shown below, there is a clear correlation between the number of modifications made to a funding commitment and the length of time it takes USAC to issue its decision.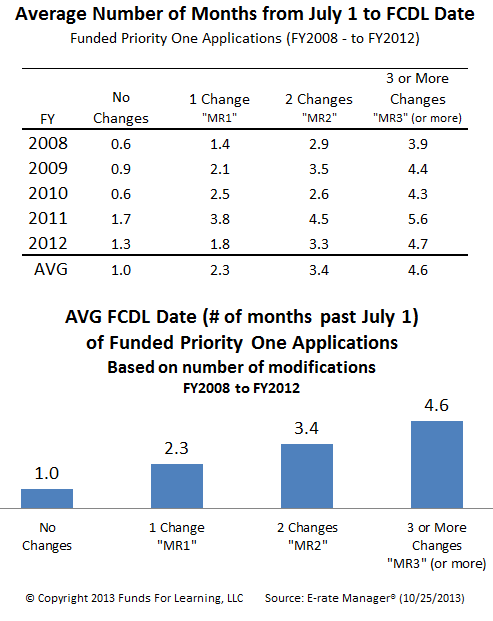 For FY2008 to FY2012, Priority One applications with no modifications were funded, on average, within 1.0 months of the start of the funding year. On the other hand, applications with 3 or more modifications were funded, on average, 4.6 months after the start of the funding year.
Clearly, the more modifications that USAC must make to a funding application, the longer it takes to process and commit the E-rate funds.