The realization of the FCC's historic decision to deny all Priority Two funding requests for an entire funding year arrived today with the largest denial wave ever seen in Funds For Learning's 17 year tenure.
Clenching the top spot on the top ten P2 denial waves, today's wave totaled $1,237,000,225—almost doubling the second highest denial wave to date. The FCC authorized USAC to deny all Funding Year 2013 Priority Two funding requests at the 90 percent discount level February 24. With USAC already denying FY13 P2 requests at the 89 percent discount level and below, this eliminated all support for any P2 request within FY2013—a first in the history of the program.
As a result, schools and libraries seeking support for any project considered internal connections or basic maintenance under the program's current priority system will not receive E-rate support for Funding Year 2013. This includes cabling, data distribution, configuration changes and a myriad of other eligible goods and services.
FY2013 Funding Wave 41 Priority 2 Denials

The following table highlights the top ten P2 denial waves from the program's inception through today's Wave 41.
Top 10 Priority 2 Denial Waves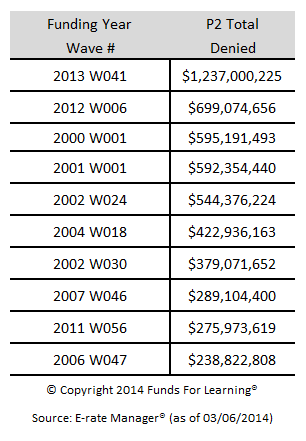 Funding wave reports are available on FundsForLearning.com.