USAC's Schools and Libraries Division hosts monthly service provider conference calls, providing information and guidance for vendors participating in the E-rate program. Highlights from March 5, 2014 service provider call include: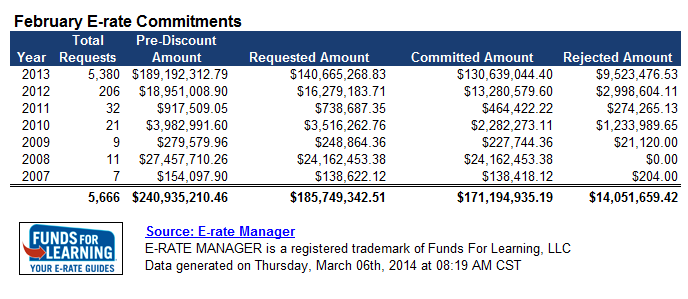 2014 Filing Window: The FY 2014 Form 471 filing window closes on March 26, 2014 and will be open for 77 days. The last date to post a Form 470 for FY 2014 was February 26, 2014.
2014 Vendor Training Update: On February 28, 2014 the SLD announced that they will hold two trainings specifically designed for the E-rate service provider community. The first training will be held on May 8th in Tampa, FL and the second training will be held on May 13th in Los Angeles, CA. The trainings are complimentary and registration is on a first come, first serve basis as registration space is limited.
Invoicing Update: Payments for the month of February totaled $151.5 million against $206.4 million in requests. USAC processed invoices for 1035 service providers and 96% of the invoices were processed within 30 days.
Top five reasons for invoice rejection in January:
Invalid SPIN

Total Commitment Paid

SPIN Not Registered

No Form 486 Processed

Invalid Form 471
Q&A
Question: FCC Chairman Wheeler has stated that he will increase the E-rate funds an additional $2 billion. Does the SLD have further specifics on where the funds will come from and how they can be used?
Answer: The SLD is waiting for further guidance from the FCC and do not have any insights other than what has been reported in the press.
Question: Where can stakeholders go to view the services and products that are E-rate eligible?
Answer: The SLD publishes an Eligible Services List each year that is approved by the FCC. The 2014 ESL can be viewed on the SLD website.
Note: The information above is not the official minutes from the call, but simply notes from Funds For Learning. The official minutes for this call, as well as call minutes from previous months, can be found here.