"Duplicative services" has been a hot topic for many applicants this year. We have already seen numerous Program Integrity Assurance (PIA) requests requiring an explanation for having multiple funding requests for Internet access. In each PIA inquiry, the reviewer has indicated that if services are identified as "duplicative" the applicant would be required to cancel one or more of the funding requests.
Per these PIA requests, it is apparent that USAC does not feel that it is a common need or necessity (with maybe a few exceptions) for school districts to have Internet services provided by multiple providers. With the understanding that every district's network environment and technology needs are different, we decided to crunch the numbers to see just how many districts felt the need to procure Internet services from more than one provider. Here is what we found…
The below map plots all of the district applicants that requested Internet services from two or more providers, for FY2015.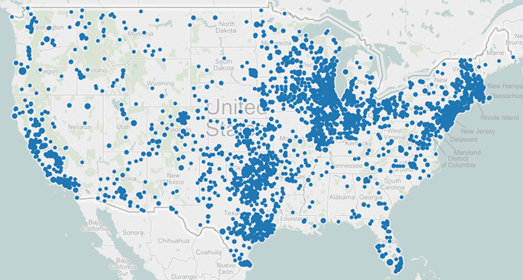 Taking a closer look, the below chart breaks down the percentage of districts with two or more Internet service providers listed on their Form 471 Applications. The data reflects that a little more than 1 in 4 (26.5%) school districts filed Internet funding requests, with more than one service provider.