As of April 13, 2017, the SLD has disbursed $562 million for funding year 2016. This amount is lower than the total amount disbursed at the same point in funding year 2015, but not drastically.

Funding disbursements represent the actual receipt of discounts by schools and libraries. Disbursements are preceded by funding commitments (which are essentially a pre-approval to receive a discounted service.) The slow pace of funding year 2016 funding commitments has led to concern about the pace with which USAC would process funding year 2016 invoices.

Comparing cumulative disbursements on a quarterly basis, funding year 2016 is slightly behind the pace of funding year 2015 and 2014, but ahead of funding year 2013.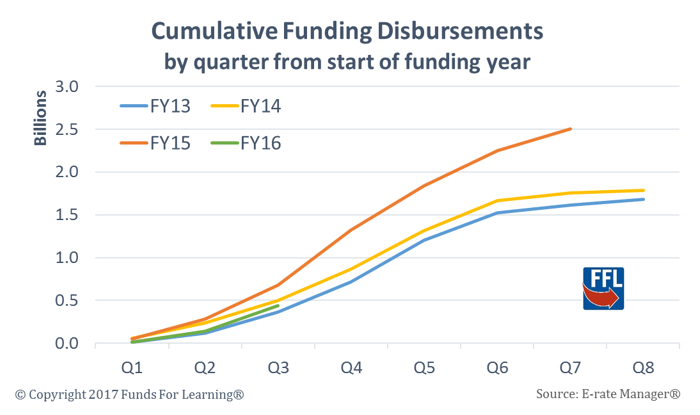 The SLD has committed $2.4 billion to date for FY 2016; however, applicants are still waiting on pending applications that total $660.9 million. Fund For Learning has reported on
milestones for FY 2015
and will continue to report on commitments and disbursements for FY 2016.