Last week I noted that demand for E-rate funding in 2017
dropped below $3 billion
for the first time since 1999. Why is this? Is the job of connecting America's schools and libraries done? Or have they decided that high-speed Internet isn't a priority any longer? Hardly! On the contrary, schools and libraries are struggling to meet the expectations our hyper-connected society has for its anchor institutions. Why, then, are there fewer E-rate applicants and less dollars being requested?
Voice Services
The first answer I usually hear to this question is "voice services". Yes, the E-rate is not supporting telephone service like it used to; indeed, as the table below shows, funding requests for voice telephone services are down $534 million from its peak in FY2013.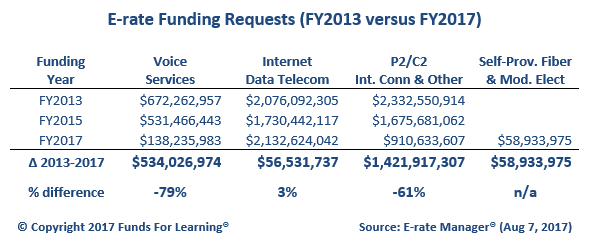 It interesting to note that this is a measure of the decline in E-rate funding requests for voice services, not actual demand. I am not aware of any library or school systems who have seen a 79% decline in their telephone bills. Not one. On the contrary, everyone that I talk to and work with has seen a dramatic increase. They are now paying three or four times more for their telephone service than they were four years ago. The folks in DC like to gloss over this fact, but, like it or not, telephone service is a requirement… and it is costing applicants a lot more money these days.
Internal Connections
The biggest change in funding requests is in the Internal Connections category. Demand is down $1.4 billion from FY2014. This is a 61% decline in requests. How is this possible? Schools need more money for internal connections, not less. Much like voice services, the distinction here is between E-rate demand and real demand. Real demand is up. E-rate demand is down. Here is why:
School budgets are being squeezed by the phase down of voice services. That $534 million drop in voice funding has been absorbed by school and library budgets. That has reduced their buying power at precisely the time they needed it to leverage the new C2 budgets. Most applicants are on a relatively fixed income and they are struggling to make ends meet.

The C2 budgets are set too low. They are half of what they should be. Most new projects require about twice as much money as the current budgets allow. Ironically, rolling out digital technology is a rather binary process. It's all or nothing. The average applicant qualifies for about a 70% C2 discount. Assuming the C2 budget can be applied to half the cost of a project, and then multiplying that price by 70%, I estimate that the typical C2 project will qualify for a net 35% discount. That's a great discount; however, when factoring in the voice phase down… well, it makes it difficult for many applicants to avail themselves of the opportunity.

The budget system was implemented incorrectly (Part 1). The budget system was supposed to be applied to the entire school district or library system, not individual buildings. Budgets were intended to liberate funds, not tie them up. Applicants were supposed to be given the freedom to utilize E-rate discounts across their different campuses where they needed it the most. Instead, millions of dollars are frozen at sites who may not need it while other sites (in the same school or library systems) who need the money are locked out.

The budget system was implemented incorrectly (Part 2). Applicants are required to reduce their internal connections projects to fit within their budgets. This hides real demand and makes the application and invoice payment process more complicated. For example, assume a school site has a $10,000 C2 budget, but the actual cost of the project is $20,000. USAC requires that applicants change the cost of the project to $10,000. This usually involves artificially changing quantities and/or unit costs in a Tetris-like game of creating a $10,000 project out of a $20,000 project. As originally proposed, the budget system was intended to cut off discounts at a certain dollar threshold. Budgets were not supposed to hide real demand or to make applicants jump through ridiculous hoops.
NOTE: Budgets have opened the door for internal connections projects. This was much needed. Budgets done well (i.e. improved) will go even further to improve the E-rate program. Change is needed to make the budget system all that it can be.
EPC. USAC's continued use of the EPC system is having a chilling effect on the entire E-rate program. This is no more evident than C2 funding requests. These applications have always been the most complicated. EPC just makes them crazy complicated… and many applicants simply cannot manage to clear all the hurdles.
*****
Next week, I will share some ideas for practical, near-term steps the FCC could take to help schools and libraries more effectively.