The E-rate Management Professionals Association (E-mpa®), a self-certifying body of E'ÄëRate management professionals and consultants dedicated to promoting excellence and ethics in E-Rate professional management and consulting, celebrates its tenth anniversary this year. Funds For Learning® was a founding member of E-mpa and the organization now includes 26 consulting groups. Together they work to promote excellence and ethics in E-Rate professional management and consulting through certification, education and professional resources.

Professional Standards
Unless you have a lot of experience managing the E-rate process, it can be very difficult to ascertain whether you are receiving quality service. Applicants who rely on a consulting firm that is a member of E-mpa have extra peace of mind knowing that their consultant agrees to operate by a code of ethics based on honesty, integrity, competence and professionalism. E-mpa consultants commit themselves to acting always in the best interest of their clients, and to faithfully promote fair and open competition.
Applicants who work with an E-mpa member consulting firm can expect to be:
Made aware of and authorize all actions taken on their behalf
Receive documentation of all work performed
Advised if a funding request is unfundable
Notified if another consultant is better suited to manage an application
The entire E-mpa code of ethics is available for review
online
.
Certified Professionals
E-mpa is the first and only association that offers a certification program for E-rate professionals. Launched in 2010, the Certified E-rate Management Professional (CEMP) designation is the standard of E-rate knowledge and experience. To be eligible for the CEMP title, applicants must meet the following criteria:
Knowledge of E-rate program rules, regulations and policies
Years of experience consulting with multiple applicants (3+ years)
Serve as an employee or owner of an E-mpa-member organization
Receive continuing professional education on an annual basis (16 hours)
Respond to moral character questions
Agree to abide by the E-mpa Code of Ethics
Pass a detailed E-mpa Certification Exam
There are currently 40
individuals
nationwide who have achieved this special designation.
Chances Are Good You Use an E-mpa Firm
In 2017, E-mpa member consulting firms represented schools and libraries in 53 U.S. states and territories, representing almost 36% of E-rate funds requested.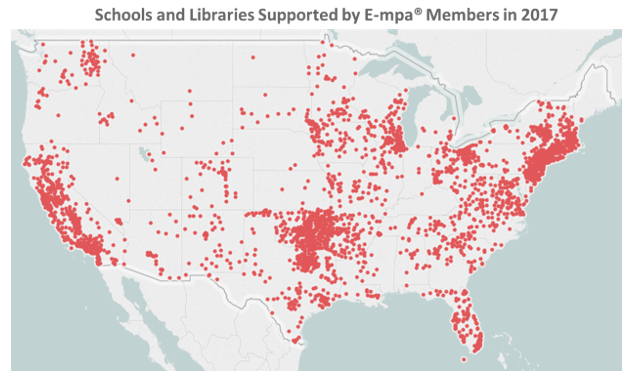 A complete listing of the E-mpa member organizations is available
online
.
#####

E-mpa provides an industry benchmark for professional conduct. In doing so, it safeguards the E-rate program while making it easier for applicants to select qualified consulting support.

Funds For Learning is proud to be associated with E-mpa. Being a member of this association of professionals reinforces our own mission to provide high-quality service for the needs of E-rate program stakeholders. Happy 10th anniversary E-mpa!