Funding year 2018 brought a record setting start to the funding commitment process. But another significant speed record was made in 2018, and chances are you not aware of it.
***
There is a strong correlation between funding commitment dates and the utilization of E-rate funds. A faster funding commitment decision means students and library patrons are more likely to benefit from better Internet access; and, when vendors can get paid on time, it reduces project delays and cancellations. This phenomenon has been a part of the E-rate program since its beginning, and many commentaries have
documented it
.
It stands to reason, then, that USAC's
speedy performance
last spring would have a positive result for schools and libraries this past fall. Guess what? It did. A record $370.3 million in funding year 2018 disbursements were authorized by USAC by the end of December 2018. A record number of applicants, 10,663 to be precise, received their funding commitment decision letters, started receiving services, and received E-rate discounts by December 31.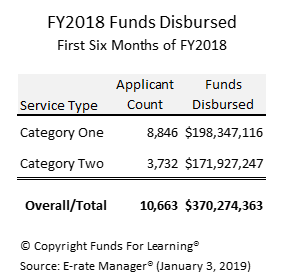 To put this into context, in 2017, there were $274.1 million in FY2017 funds disbursed by the end of December. The year before, in 2016, there were only $138.7 million in FY2016 funds disbursed by December.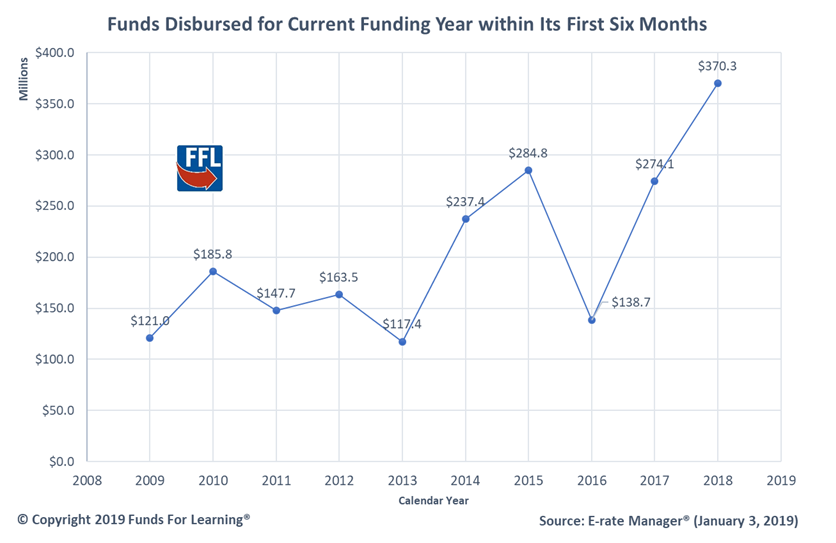 Issuing funding commitments faster is necessary in order that schools and libraries might receive their services sooner and vendors get paid promptly. The eye-catching news is that USAC issued big funding waves early in the spring of 2018 – but, ultimately, the most significant news is that schools and libraries were able to convert those funding commitments into a record amount of disbursements during the first six months of the funding year.