Every E-rate funding request is tied to a competitive bidding process that includes the posting of an FCC Form 470. This form is used by schools and libraries to describe the goods and services they are considering purchasing with support from the E-rate program. The Form 470 is released in conjunction with an applicant's other state and local competitive bidding requirements.
As of October 11, the total count of Form 470s posted for funding year 2020 is down 39% compared to funding year 2019. The percentage drop is nearly identical for both Category One and Category Two services.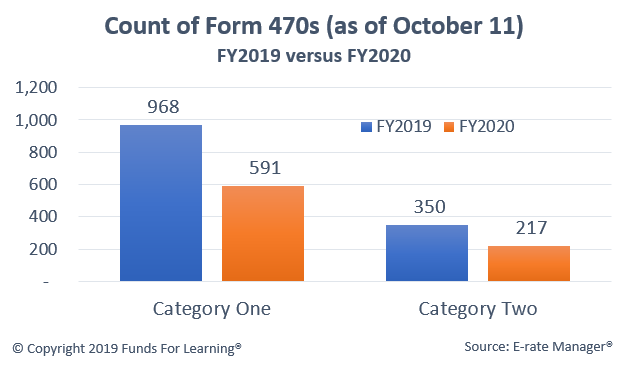 Although the FCC is currently considering
new rules
for Category Two discounts, applicants are encouraged to start their competitive bidding process. The funding year 2020 eligible services list is not expected to be pared back at all – in fact, the only significant change could be the addition of
network security
functionality. In short, the new rules will not impact the required competitive bidding process. Therefore, schools and libraries who have need of new Internet access or Wi-Fi networks should start the process today.