On August 25, 2021, the FCC announced a second 15-day ECF filing window. The window opens September 28 and closes October 13. The initial filing window, which closed August 13, 2021, received requests for $5.137 billion to fund 9.1 million connected devices and 5.4 million broadband connections as part of the $7.17 billion Emergency Connectivity Fund Program.
In a statement Acting Chairwoman Jessica Rosenworcel said, "The Emergency Connectivity Fund is the single largest effort to bring connectivity and devices to students who lack them – and this robust response from applicants shows the tremendous need in our communities. This funding is an important down payment in closing the Homework Gap so that all children, regardless of their circumstances or where they live, have access to the tools they need to succeed. The pandemic highlighted like never before the difference a reliable internet connection can make in a student's education, and we want to make sure that as many schools and libraries can apply for support this school year. The need is there, and the opening of a second application window reflects that. Together with the Emergency Broadband Benefit Program, we are investing more than $10 billion in American students and households, so more Americans can connect, communicate, and more fully participate in modern life."
A state-by-state breakdown of ECF demand shows California had the highest request for $812,045,890.55 and the least amount for $1,314,000.00, requested by Northern Mariana Islands.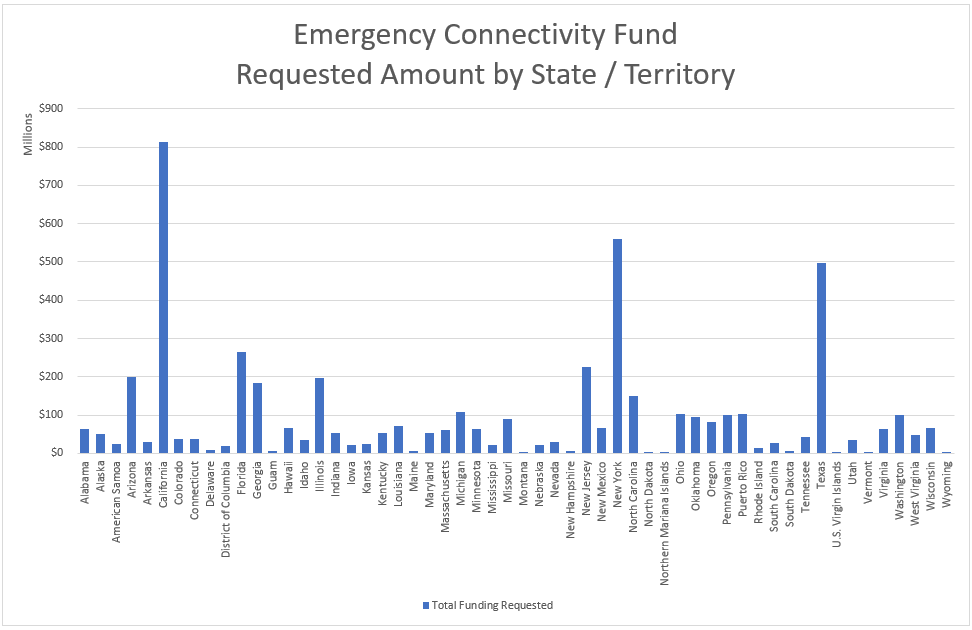 The FCC's news release can be found here