Can we establish a permanent E-rate filing window from January 15 to March 1?
When it comes to the E-rate, there are numerous topics that we can – and should – debate. Many of them require in-depth understanding and thorough analysis; however, setting a permanent filing window from January 15 to March 1 is not one of those topics. It is a simple step that would improve the entire program for all stakeholders.
Everyone would benefit from a predictable, stable filing window. It would:
Simplify planning
Streamline the funding process
Increase predictability
Reduce mistakes
It makes a lot of sense to establish a permanent window. Each year applicants await the announcement of the filing window dates so that they can plan, procure goods and services, and document all required items to meet the deadline. For many schools, this process requires a project plan that starts 3-to-6 months ahead of the filing window. It takes many months to follow procurement processes, select service providers, obtain school board approval, and prepare the applications in time. Why should such a lengthy process have question marks associated with its timing each year?
Annual Form 471 Filing Window Dates (FY1998 – FY2011)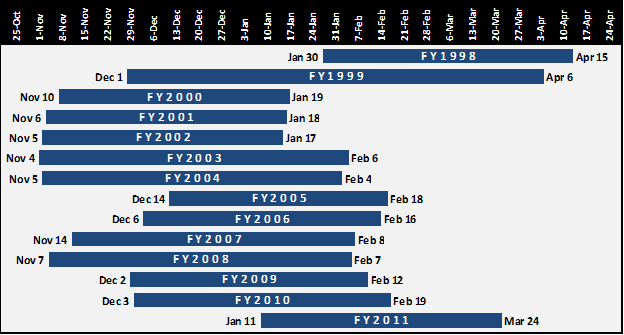 As illustrated above, the filing window dates have shifted in each year of the program. This creates unnecessary stress for everyone. The moving target of the E-rate application deadline is a source of frustration and may be a factor in the number of filing deadline waiver requests submitted each year.
E-rate applications require information and activity synchronization that spans many departments within a typical school district. Unlike most funding sources, the E-rate requires participation from the technology, procurement, finance, nutritional service, accounts payable, administration, school board authorization and possibly legal/contracting departments. This type of coordination requires careful planning and consideration. The lack of a dependable deadline is problematic and increases the opportunity for something to go wrong during the process.
It also places an unnecessary administrative burden on USAC, who has to get the word out to applicants.
Why January 15 to March 1?
A set January 15 to March 1 filing window will give applicants adequate time to prepare their applications. It will avoid the winter and spring holiday/vacation periods while reducing the impact of inclement weather that has sometimes been a factor with January and mid-February deadlines.
From FY2000 to FY2002, the window closed in mid-January. This date was problematic because of holiday breaks. Regularly scheduled school board sessions frequently do not meet during the month of December and are pushed until late January.
Last year, the FY2011 filing window closed much later, similar to FY1998 and FY1999. Though many applicants appreciated the extra time, the late-March closing date also conflicted with many spring break vacations during which relevant school staff were missing for required signatures and data necessary to complete the applications.
The Proposed Filing Window
There is a reason that there is a set annual deadline for filing federal taxes each year. It allows all tax filers to plan accordingly and leaves less room for uncertainty. We respectfully request that the FCC follow suit and set a permanent January 15 to March 1 filing window that applicants can count on and plan for each year.