Survey questions four, six, and eight asked applicants to rank the readiness of their existing infrastructure, the importance of certain types of technology initiatives for the future, and what changes they anticipate for their budgets for Priority 1 services five years from now.
Part 3 Fast Facts
58% of respondents indicated that they felt their telecommunications and Internet services budgets will be up slightly or significantly in five years.
One-third of respondents believe their current infrastructure is lagging, with only 10% indicating that their telephony, data, and WAN infrastructure is "ready for tomorrow."
Questions and Responses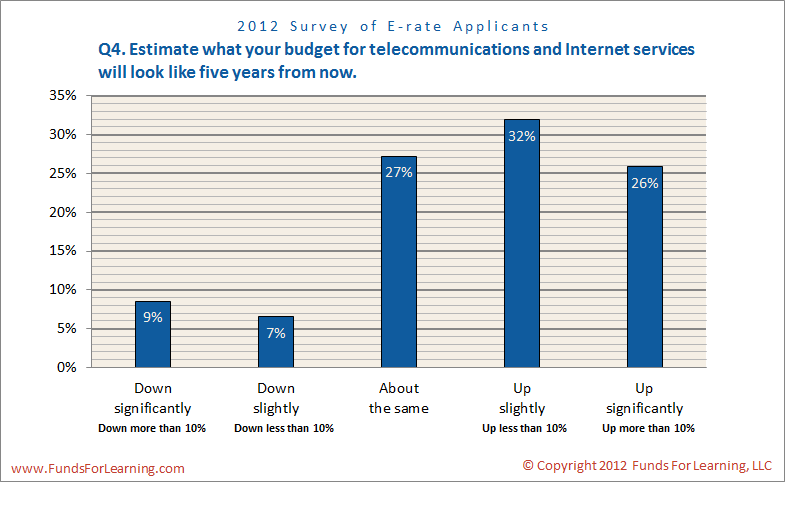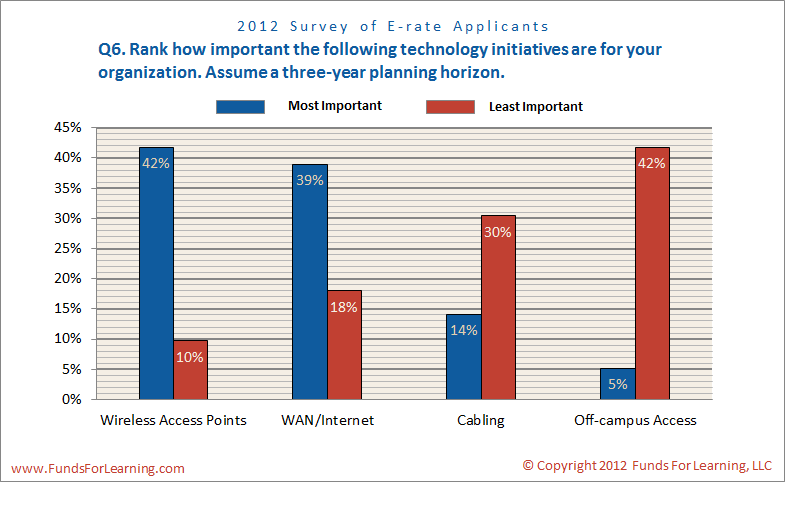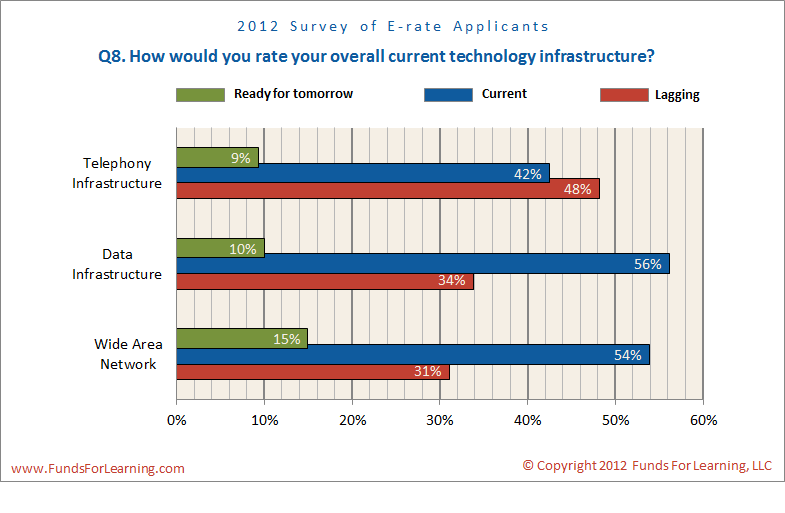 Analysis
E-rate funding requests for Priority 1 services (telecommunications and Internet access) have risen steadily over the past five years, from $1.8 billion in Funding Year 2008 to $2.4 billion in Funding Year 2012. Responses to question four would suggest that applicants believe this trend will continue, with only 16% of respondents estimating that their budgets for Priority 1 services will be lower than their current level five years from now.
Wireless LAN connectivity scored highly among choices for technology initiatives over the next three years, with 42% of respondents placing a high emphasis on wireless projects. Providing off-campus access to school resources was given the lowest importance among survey applicants, with only five percent of applicants ranking this choice as their most important technology initiative over the next three years.
Approximately one-third of respondents indicated that their data and WAN infrastructures were lagging, with almost half reporting that their telephony infrastructure is not up to current standards. While a small percentage of applicants report that their infrastructures are ready for the future, it is clear that continued support of applicant telephony, data, and WAN infrastructure will be critical for applicants' future success.
In Part 4 of our analysis, we will take a look at opinions regarding how the E-rate program's rules and regulations should be changed to better suit applicants' needs.