Survey questions three, nine, and ten asked applicants to share their opinions about potential changes to the E-rate program's rules, regulations, and processes.
Part 4 Fast Facts
58% of respondents indicated that increasing the amount of E-rate funding is of critical importance.
In lieu of an increase in funds, over half of the applicants who responded favored either establishing a Priority 1 discount threshold or lowering discount rates if Priority 1 demand exceeds available funding.
Questions and Responses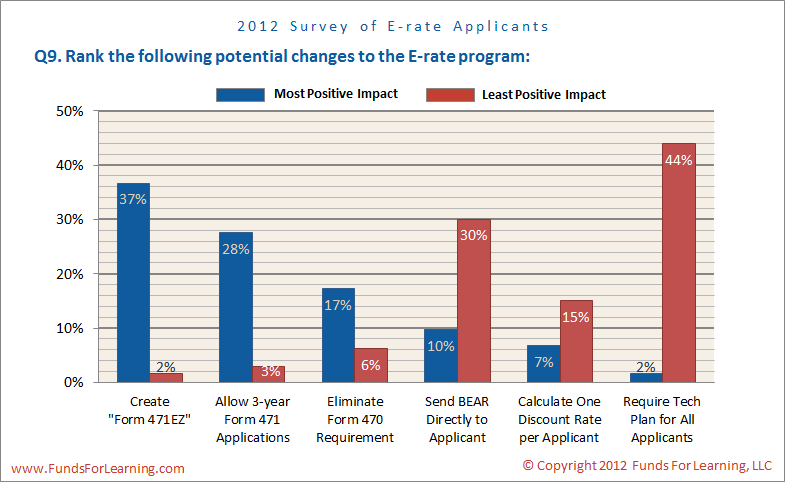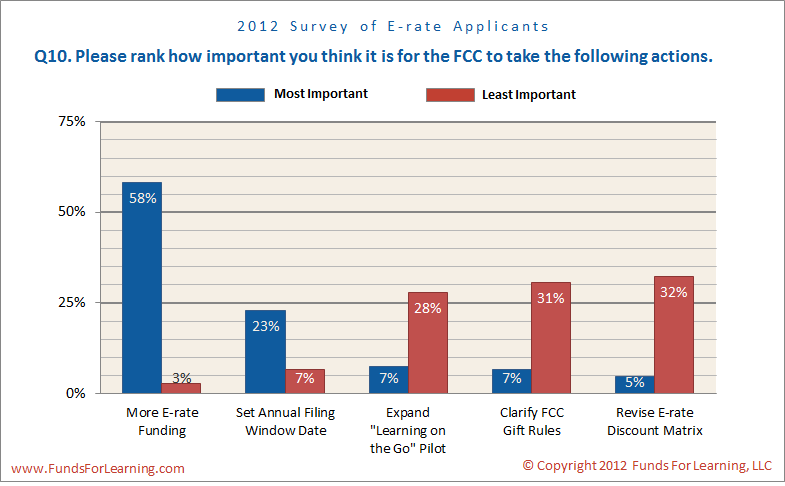 Analysis
Almost 60% of the applicants who responded to the survey stated that the FCC should focus on increasing the amount of funding available in the E-rate program. When asked about potential solutions for a scenario where Priority 1 demand exceeds available funding, majority opinion was split between establishing a Priority 1 threshold (similar to the Priority 2 threshold system currently in place) or adjusting the discount matrix to lower the available discount on eligible services. Responses indicate that removing eligible services or placing limitations on the amount of funding for certain types of projects are believed to be of negligible impact.
Survey respondents also indicated that simplification of E-rate forms is one of the most effective ways to positively impact the program. 37% of respondents favored the creation of a simpler "Form 471 EZ" application, and 28% of applicants liked the idea of a Form 471 application that was good for three years. In addition, 23% of respondents ranked a fixed filing window deadline as the most important FCC goal.
The responses to these questions, as well as applicant responses to question 1, show that applicants overwhelmingly favor a stable, streamlined, and predictable funding source and application process.
In Part 5 of our analysis, we will take a look at opinions regarding the importance of various types of eligible services, as well as which service categories are most critical to applicants.