In the recent Senate hearing on E-rate 2.0, Senator Begich of Alaska asked about the fate of E-rate funding for Pelican City School District, a small school with less than 20 students in rural remote Alaska. Senator Begich was concerned that Pelican City, which qualifies for an 80% discount, might lose out on E-rate support if the FCC adopted the Funds For Learning E-rate 2.0 proposal. (See his question at about the 2 hour mark.) The Funds For Learning (FFL) proposal calls for budget caps that encourage cost-effective purchases and guard against wasteful spending. The caps are tied to each applicant's size, E-rate discount rate and location.
The good news is that Pelican City won't lose out. The FFL proposal has specific safeguards for small schools – minimum budget floors – and for rural remote schools – a high-cost multiplier that doubles an applicant's funding cap. As shown below, in 2013 Pelican City requested $11,011.20 in E-rate discounts. Under the FFL proposal, they could have requested up to $77,660.80 in E-rate discounts, using the difference to purchase Wi-Fi or other necessary internal connections.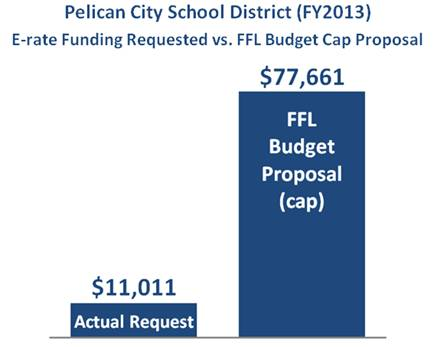 The Senator's question raises an interesting point. What safeguards exist today for Pelican City School District? The current Funding Priority System denies internal connections funding for schools like Pelican City. Worse yet, even if the E-rate funding cap were doubled, it appears unlikely that Pelican City will EVER get funding for internal connections.
The facts are clear. Without change, places like Pelican, Alaska, will continue to get short-changed by the current FCC priority rules. The E-rate program needs to protect Pelican City Schools and every other school like it.
The Funds For Learning E-rate 2.0 Proposal levels the playing field and returns the E-rate program to its roots: allowing schools to plan for technology based on their own needs and priorities, while ensuring that the poorest schools and rural schools receive the greatest benefit.