The FY2014 E-rate filing window is scheduled to close on March 26, 2014. Applicants have another 33 days to submit their funding applications. Even though most applications have not yet been submitted, there are early signs indicating that the demand for E-rate discounts in FY2014 will be similar or higher than previous funding years.
Telecommunications and Internet Access ("Priority One")
At this point in the FY2012 filing window, early demand was at $205 million. For FY2013, it was at $230 million. As of today, FY2014 applications for Priority One services total $235 million.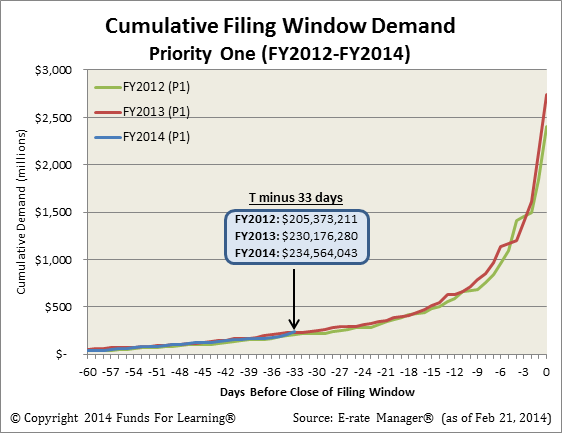 Looking more closely at the filing window activity, from T minus 60 to T minus 33 days, it appears that FY2014 is running ahead of the FY2012 pace; however, there is not as much difference at this point between FY2013 and FY2014. It should be noted that the FY2012 and FY2014 filing windows both opened in January and are both about 20 days shorter than the FY2013 filing window which opened in December. Nevertheless, the early applications for FY2014 do not seem remarkably differently than FY2012 or FY2013. The graph below shows a closer look and comparison of the activity for each of the three funding years as of this stage of the filing window.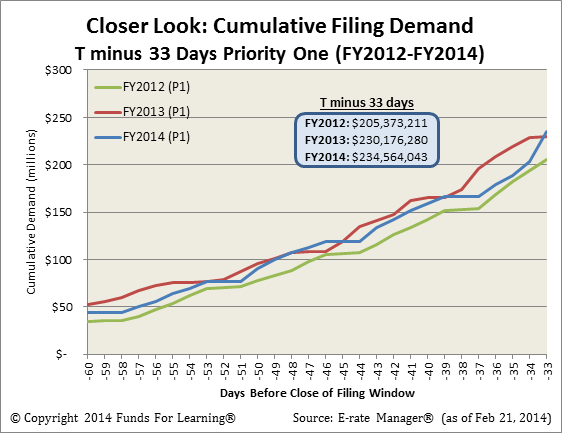 Internal Connections and Basic Maintenance ("Priority Two")
The story for internal connections and maintenance support is unfolding differently. Initial demand is currently outpacing the early applications in FY2013. This increased activity may be the result of FCC Chairman Wheeler's promise to bring $2 billion of additional money into the program over the next two years. Or it may simply be too early to tell.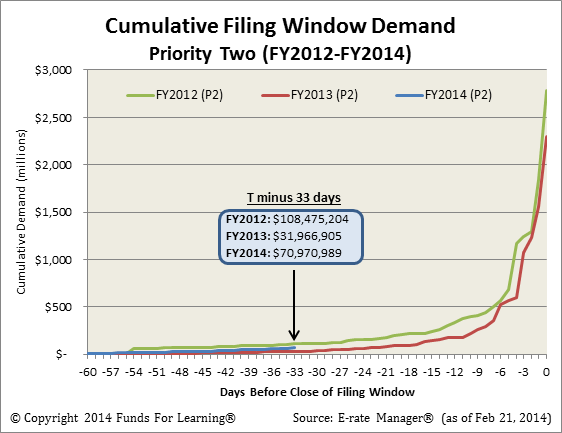 Note: the early demand for FY2014 Priority Two requests is behind that of FY2012. Upon closer examination, the data reveals that Los Angeles Unified was quick to submit an application for $56.35 million on January 26, 2012. This single application boosted the total FY2012 demand early in the filing window, giving it a "lead" over FY2013 and FY2014. Without the LA Unified funding requests, it appears that the early demand for FY2012 Priority Two requests would be below that of FY2013 and FY2014.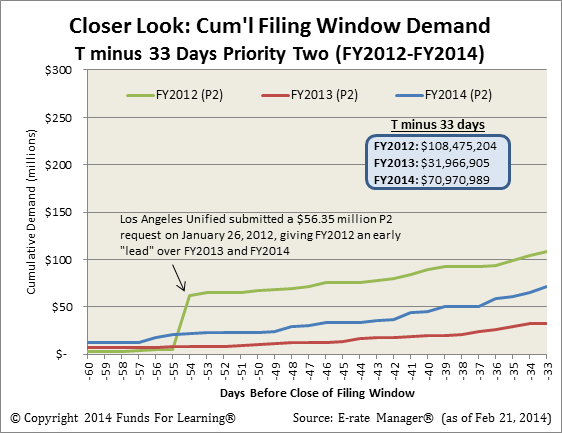 #####
It is too early to project what the final demand numbers will be for Funding Year 2014. Many factors can influence the timing of funding requests, but early indicators point to a total demand of E-rate discounts in FY2014 that meets or exceeds the previous funding year.