In his Digital Learning Day address, FCC Chairman Thomas Wheeler created quite a buzz by announcing an additional $2 billion in E-rate support for broadband networks in the next two years. Rather than a permanent increase in the annual funding cap, however, the Chairman stated that funds will be made available by "reprioritizing existing E-rate funds to focus on high-capacity Internet connectivity, increasing efficiency, and modernizing management of the E-rate program…"
Of course, the E-rate program is no stranger to "increases" in funding in any given year due to the practice of "rollovers" – money that is committed in prior funding years but never utilized (for a variety of reasons.) Those funds are periodically "rolled over" for redistribution in a future year. Rollover funds have played a significant role in driving down the Priority 2 discount threshold; and more importantly, in Funding Year 2013 they made it possible for the program to fully fund Priority 1 requests in the face of a funding shortage. Since FY2008, approximately $5 billion in rollover funds have been authorized by the FCC: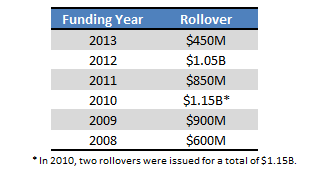 While the policy of issuing funding rollovers (at least theoretically) ensures that all of the dollars in the Fund are eventually disbursed, it does highlight a major inefficiency in program administration: funds are committed, not utilized in a reasonable time period, then left for years to "expire" so that they can be rolled forward for the process to start again. As of today, committed funds in Funding Years 2008-2012 exceed disbursements by over $3.8B, with over $2B falling into the Priority 1 funding categories:
In this time period, over $700M in committed funds are associated with funding requests which have zero utilization. But unused FRNs are not the whole story – the second largest source of currently unused funding comes from FRNs which have had at least 75% of the committed amount disbursed (this could be the result of leftover balances from estimated funding requests, projects which were scaled back after commitment, and numerous other reasons.)
A quick look at funding request utilization gives us a glimpse into how an additional $2B can be identified for Funding Years 2014 and 2015 – it would seem that rollover funds will play a large role.