Basic maintenance funding requests totaled about $217 million in funding year 2014. This represents about 5% of overall demand. Each year, basic maintenance has represented the smallest category of demand. Compared to the demand associated with the purchase of equipment in the Internal Connections category, Basic Maintenance requests are just under 10% of the total demand for Priority Two requests.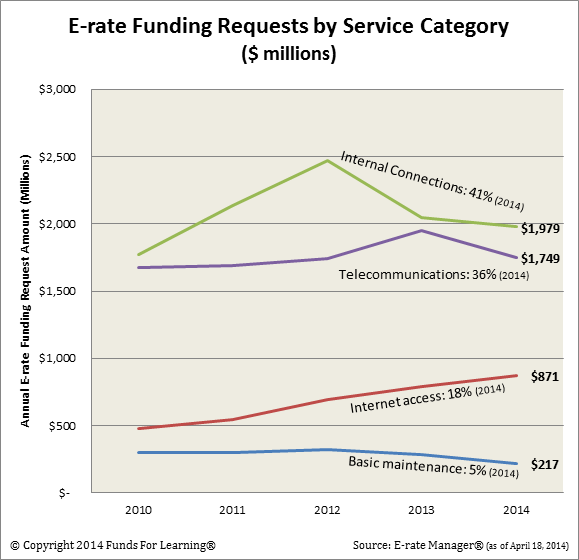 Looking at maintenance funding demand against the funding caps established for recent funding years, we can still see that the amount of pressure from Basic Maintenance is just a small piece of the demand picture.
It is difficult to quantify the impact that Basic Maintenance services have at currently keeping Internal Connections demand at bay. Schools and libraries support their network equipment with basic maintenance services in order to extend equipment lifespan, optimize functionality and bolster security. As my colleague Brian Stephens has pointed out in his recent commentary on the pervasive "Heartbleed" security threat, these are considerations that simply cannot be ignored within complex and vital school networks.
Funds For Learning is creating a Funding Year 2014 demand white paper, which will be released on May 12th, to analyze the footprint that E-rate funding requests have among applicants and how funding demand will affect the various different types and sizes of E-rate applicants.