On June 6, 2013, President Obama announced the ConnectED initiative to "within five years, connect 99 percent of America's students to the digital age through next-generation broadband and high-speed wireless in their schools and libraries." A major component of ConnectEd was a revamp of the E-rate program, with the President calling on the FCC to modernize the E-rate program.
Today, on the anniversary of the President's announcement, it seems fitting that we pause and take measure of where things stand. One year has passed, meaning that we are 20% of the way towards the five-year mark. Despite a strong start by Acting Commissioner Clyburn, the FCC was unable to enact reform in time for the 2014 funding year; however, new FCC Chairman Wheeler has committed the agency to implementing reform for 2015. That timeline leaves just three years to complete the task of connecting 99 percent of America's students.
The President's plan has two major technology components: (1) high-speed broadband connections to buildings and (2) wireless access within them. The current E-rate program (i.e. without reform) already covers the high-speed connections to buildings — and Chairman Wheeler has promised that there will be sufficient funds to cover that piece of the puzzle. That leaves us with the million dollar question, or to be more precise, the billion dollar question, of how to get schools all of the internal connections support that they need in order to adequately connect to the Internet by 2018.
The set of solutions that can get us there is fairly narrow. Here is what is taking shape:
More funding is essential for Wi-Fi. This week Cisco submitted a model that estimated the total cost to deploy Wi-Fi at over $11 billion.
Increased funding is necessary to cover new phone systems. If the FCC maintains course and eliminates support for plain old telephone service, schools and libraries will be required to switch out their old phone systems. This is a change most of them have been hoping to make for years, but without internal connections funding they haven't been able to make the switch.
Multi-year funding commitments are required to speed deployment. This is a must, not only because it will ease the administrative burden on applicants, but because it will open the door to financing internal connections. No matter how much money there is available in the E-rate coffers, it is unlikely that it will be sufficient to get the job done for all schools and libraries in one year; however, if E-rate applicants are allowed to amortize the costs of on-campus projects over multiple years, the installation of Wi-Fi and VoIP systems will occur much, much faster. Yes, we may have to spread the cost out over 5 or 6 years, but that should not stop applicants from getting their networks installed in 2 or 3 years. In fact, I officially challenge all vendors and manufacturers to offer 6-year, zero percent financing on all E-rate internal connections projects. President Obama called for the private sector to chip in, and I can't imagine a more tangible, practical, and effective way for the private sector to really pitch in.
Ideas that we can scratch off the list. These will not get the job done:
5 or 6 year rotation cycles are too little, too late. Some have suggested that schools wait until 2019 or 2020 to get their Wi-Fi networks. As a practical matter, a 2020 or 2021 internal connections funding commitment will miss the President's goal by 2 or 3 years. Furthermore, if the so-called 1-in-5 proposals are adopted in 2015, the majority of K-12 students enrolled today in our schools will have graduated before many schools get support for internal connections. But at a more fundamental level, determining support based on a student's zip code is not acceptable, for any child, for any zip code. I cannot believe that as a nation we would accept this timeframe. K-12 students need support today, in 2014, not in the next decade after they have already entered the workforce.
NOTE: This comment is focused solely on the timing of the proposed 1-in-5 rule. It does not even address the administrative nightmare that this rule would unleash.
Reducing discount rates will not help achieve the ConnectED goal. Schools and libraries, by and large, live on fixed incomes. As this analysis shows, school out-of-pocket spending varies very little, no matter a school's E-rate discount rate or location. There is a notion, popular with some, that reducing the buying power of E-rate applicants will somehow speed up deployment of Wi-Fi equipment and other important internal connections. The amount of funding that schools and libraries have to spend is not going to increase if E-rate discount rates are lowered. Lowering discount rates will simply slow down the process of getting our students connected.
Competition, group buying power and data transparency are bed rock values of the E-rate program that should continue to be encouraged, but there are no silver bullet changes to these areas that offer any significant short-term lifts. The E-rate program was founded on principles of competition. There is no doubt that enhancements can be made to further support these elements; however, we have to stop treating competition, consortium purchasing, and open pricing information as if they heretofore did not exist in the K-12 market place. They are already here. There is no need to reform any of the current E-rate regulations to allow for consortia applications: they already exist!
NOTE: the one area that could benefit from a boost in competition is internal connections. The number of vendors involved in internal connections work is down 72% since 1998. By restoring internal connections funding, the FCC could give a big boost to competition. (see graph below)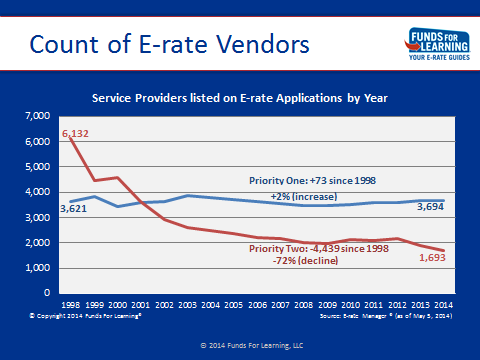 #####
We are one year into the five year ConnectED initiative. There are ways to reform the E-rate program that will allow for schools and libraries to achieve this lofty goal by 2018. We should not settle for anything less. The need is real and the students are waiting.