When the FCC began to modernize the E-rate program last year, one of its main goals was to focus the program exclusively on broadband Internet connectivity. This was accomplished, in part, by committing to provide Category Two (formerly Priority Two) funding support to applicants for the first time in years. The FCC eliminated previously eligible non-broadband services, such as hosted email, and started a phase-out of telephone support by reducing the discounts available for voice services.
No one knows precisely what the results will be from all of the changes; but the graph below gives us a first glimpse into the impact reform is already having. Each year, E-rate applicants are required to enter into a competitive bidding process. By submitting a FCC Form 470, schools and libraries let potential bidders know what goods and services they hope to purchase with E-rate discounts. Forms 470 are still being submitted for the 2015 funding year and a final analysis is still months away. But comparing the forms that have been submitted this year, as of January 14, to the forms submitted by that same date last year, it is quite clear that things are changing.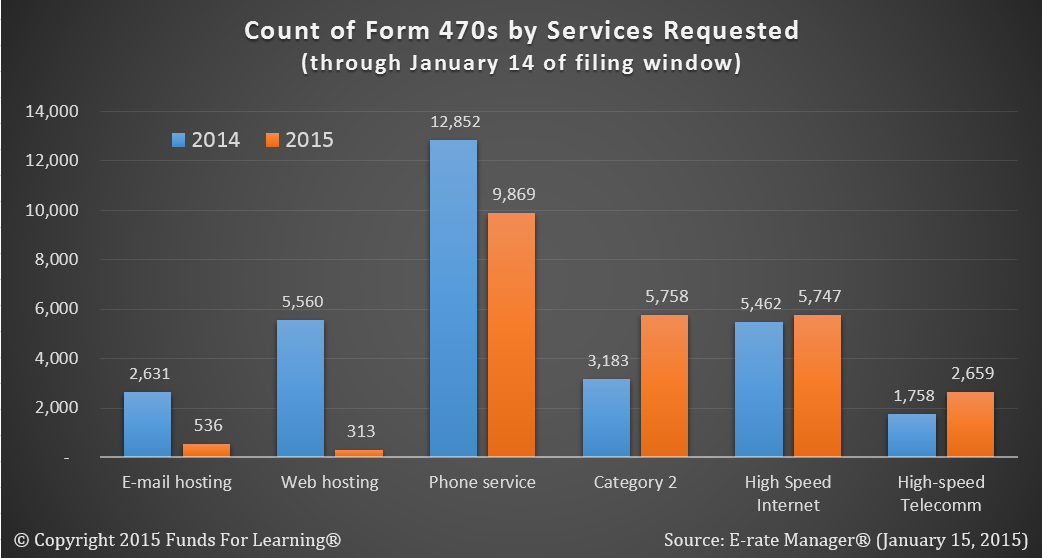 The difference between this year and last year is telling. It is clear that most applicants are aware that there will no longer be support for email hosting services or web hosting services. Also, to date, the count of bids for phone service have been trimmed back by 23%, which coincidently, is nearly identical to its 20 point percentage reduction in funding support.
Perhaps most significantly, bid requests for broadband connectivity (i.e. Category 1 high-speed internet and telecom to buildings) and capacity (i.e. Category 2 on-campus connections) have all seen an increase from FY 2014. Most notably, the count of Category 2 Forms 470 has surged upwards by 81%. The FCC's commitment to providing on-campus broadband capacity has obviously encouraged applicants to seek out bids for Category Two goods and services.
#####
Initial indications are that the FCC is on course to achieve its goal of an E-rate program that is focused on supporting broadband connections. As the filing window wraps up on March 26th, we will have an even clearer picture of E-rate modernization's impact.