All E-rate eligible goods and services must be competitively bid. This helps schools and libraries receive the most-effective solutions to fit their needs.
To fulfill this requirement, the E-rate bidding process combines state and local procurement regulations with the FCC's own prerequisite: the FCC Form 470. By posting a Form 470 in the USAC system, an applicant puts all potential vendors on notice that there is an opportunity to provide E-rate discounted goods and services.
The majority of Form 470s are posted in late fall and early winter; however, applicants can start posting Form 470s earlier. Case in point: prior to E-rate reform, there were normally about 1,000 Form 470s posted for the next funding year by this time in August. However, something seems to have changed.
Last year, we first noted that the pace of FY2015 Form 470s was off to an unusually slow start. Oddly enough, FY2016 is off to a similar start – in fact, an even slower start than FY2015. There are currently 61 FY2016 Form 470s posted nationwide. That's down from 84 last year (and 970 the prior year.)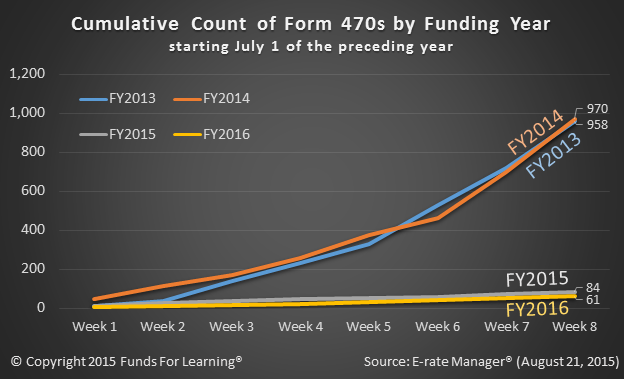 What is behind this shift? School procurement cycles have not changed, but something clearly has. Last year it seemed that applicants were waiting on the roll-out of the new FCC Form 470 and for the FCC to release its first official reform-related Eligible Services List. This year, it's not so clear. Perhaps applicants are getting acquainted with the new USAC EPC system, maybe they are discovering that the new FY2016 Form 470 requires more information (and thus more time) to complete, or it could be that applicants found that posting their Form 470s later in the fall worked out just fine. (Despite its slow start, FY2015 ended up with a record number of Form 470s: 38,003 – the most ever filed for a funding year.)
No one knows how the Form 470 competitive bidding process will play out this year, but one thing is certain: we are off to a very slow start.