USAC has set another record, this time for the speed with which it is authorizing payments on E-rate funded projects. As of November 13, 2015, $150.7 million in disbursements have been authorized for payment by USAC. This is $23 million more than had been disbursed in 2014 on the same date – and nearly triple the $52.2 million that had been authorized by this date in 2013.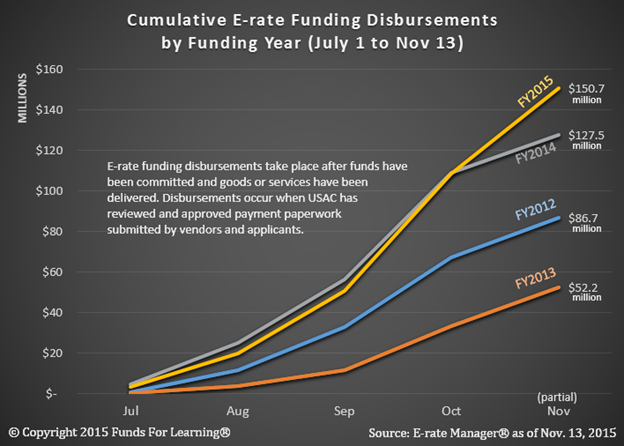 It is easy to focus on the pace or total amount of funding commitments. The amount of discounts awarded to applicants is very important; yet, it is only important because it is a leading indicator of the funds that will be helping support schools and libraries. A funding commitment is a commitment by USAC to pay. It is not an actual payment.
Disbursements, on the other hand, represent the actual delivery of goods and services. When USAC authorizes a disbursement, it means that an E-rate applicant has received the benefit of an E-rate discounted project and now the vendor is getting paid (or the applicant is being reimbursed.) Disbursements are where the money is at – literally!
Looking at the cumulative funding disbursements from July 1 to November 13 of this year, and comparing it to the past three years, we see that USAC is meeting — and somewhat exceeding — the pace of disbursements it set in FY2014. This is an encouraging sign. USAC is not only getting funding commitments out the door more quickly, but also they are getting real dollars out into our communities faster as well. That is the best type of E-rate reform.