The start of the FY2016 E-rate filing window is on pace with FY2015. Despite the numerous challenges and changes associated with USAC's new EPC system, the discounts requested in the first three weeks totaled approximately $47.9 million, just shy of the $49.4 million requested during the same period in 2015.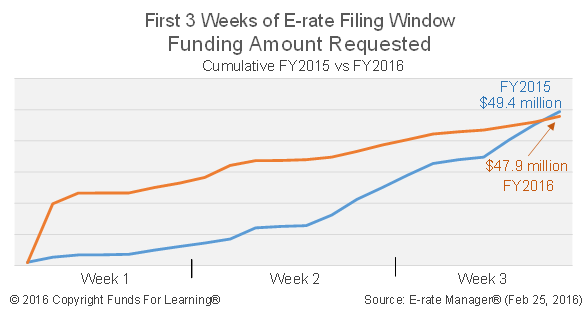 It is common for applications to trickle in at the beginning of the season; and most applications are expected in the weeks just prior to the deadline, which this year is scheduled for April 29. The new E-rate forms require more information and the new EPC system asks that it be gathered and compiled in a manner quite different than previous years. This may be one of the reasons that the current count of applications lags behind FY2015 in the first three weeks of the window.

Of greatest concern to USAC are the applicants who represent multiple school or library locations. EPC is most convenient for applicants with 5 or fewer sites. (As shown below, in 2015, about 79% of applicants met this criteria.) As the filing window continues, it will be interesting to observe how effectively the larger multi-site applicants are able to navigate the system.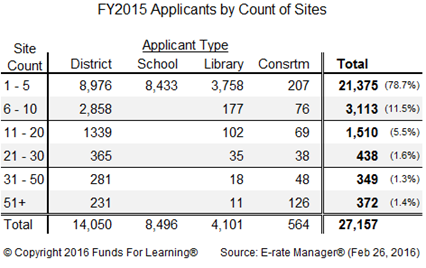 The bottom line of all this is that applicants of all sizes should heed USAC's advice. It is time to setup EPC accounts, post competitive bidding documents and begin gathering application data.