USAC's Schools and Libraries Division hosts monthly service provider conference calls, providing information and guidance for vendors participating in the E-rate program. Highlights from the February 3, 2016 service provider webinar include: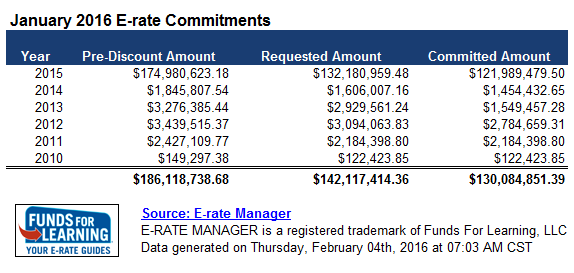 Invoicing Update
Payments for the month of January totaled $144.49 million against requests for $304 million for 1,654 service providers and 95% of the invoices were processed within 30 days.
Top Invoice Denial Reasons:
Duplicate invoice
Total commitment pad
SPIN not registered
Invalid 471/FRN
Billing Started Before Form 486 Service Start Date
Invoice reminder: FY 2016 Form 473 Service Provider Annual Certification will not be ready to be released until July 1, 2016.
Q&A
Q: If an applicant receives at least two bids and they do not believe they are cost effective do they need to start a new E-rate procurement?
A: Yes, the SLD's guidance is that applicant's should post a new Form 470 and start the competitive bidding process over.
Q: When can service providers start using the EPC system?
A: Certain information and data is currently available within EPC, but the forms will be rolled out gradually over the coming months.
Q: This year, mandatory support for a Zone Director was changed to Basic Maintenance. Currently the schools are requesting three-year support, but USAC only pays one year at a time. This either requires the service provider to pay for three years and remember to bill for it every year OR quote the customer one year support three times. What do you recommend?
A: Basic Maintenance is approved on year at a time and applicants need to apply for it each year and it might prudent for service providers to provide quotes that have single years of service at any time.
Q: I have a question regarding Special Construction charges and how to charge a district for them. Are we forced to put all of the Special Construction costs as a one-time (non-recurring) charge or can we "bake" some of that into the monthly recurring charges?
A: The invoice must be for onetime non-recurring and not "baked in" to a monthly recurring charge.
Note: The summary above is not the official minutes from the webinar, but simply notes from Funds For Learning. The official minutes for this webinar can be found here and archived call notes can be found here.