Funds For Learning® is pleased to announce the March 18, 2016, release of version 16.1 of our E-rate Manager® web portal. The new site is designed to help applicants successfully manage and prepare all of their E-rate funding paperwork and record keeping. Like its predecessors, the new system is compatible with USAC's online tools, including the new EPC system.
Updated Design, Same Robust Support
Version 16.1 will sport a cleaner, "flat" design aimed at reducing the stress of busy E-rate coordinators. While created with all of the latest E-rate rules and regulations in mind, the new site does everything it can to reduce data entry and to minimize the strain E-rate places on applicants — all while enhancing the quality of E-rate applications and record keeping.
A few new features that we are excited to share:
Easy upload utility for data connectivity questions

Simple checking of site profile information

Enhanced application error-checking prior to transfer to EPC
Although its appearance may be different, the new E-rate Manager will continue to offer all of the features and settings users already rely upon, such as: copying and sharing of forms, "drag and drop" attaching of files, custom report settings, and user-defined tracking and notification tools.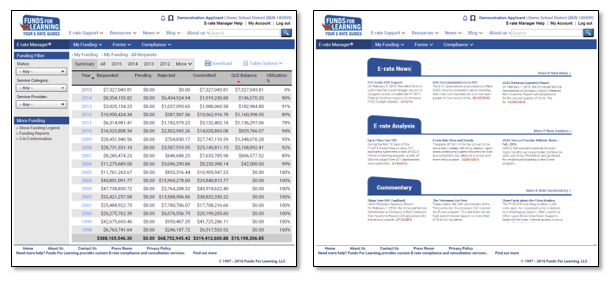 Building on 19 years of Experience
Funds For Learning® was formed in 1997 to help schools and libraries manage their E-rate funding applications. In 2000, we began developing and licensing management software to E-rate applicants. Known as E-rate Advisor™, our software was the first, and only, desktop software ever designed to help applicants complete their E-rate paperwork.
In 2004, we transitioned away from CD-ROMs and created another first: E-rate Manager, a web-based service for managing E-rate funds. This new service quickly had a positive impact on schools and libraries and went on to receive the 2004 EdNET Pioneer Award in recognition of Funds For Learning's contributions to the advancement of the education technology industry. In 2008, E-rate Manager was once again recognized, this time with an Award of Excellence from Tech & Learning Magazine.
#####
Now, in 2016, the E-rate program has the potential to help students and communities receive more broadband Internet than ever before. Schools and libraries are working hard to leverage this opportunity and Funds For Learning is honored that we get to help. We intend to do all that we can to support and encourage E-rate applicants of all types and sizes, and our new E-rate Manager v16.1 is one of the ways we can.